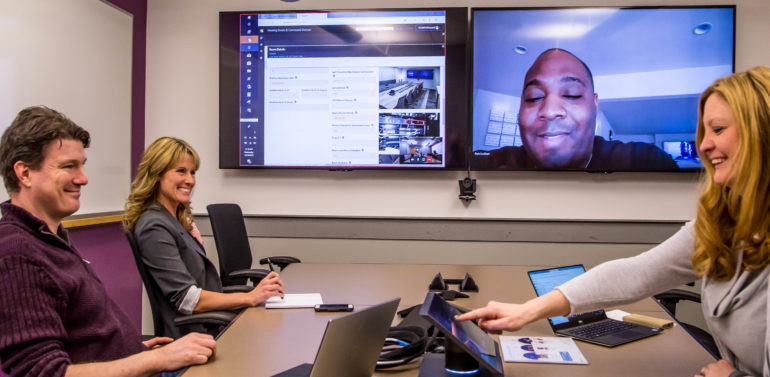 Click join: Internal meetings get a boost with Microsoft Teams
Last updated: 11th September 2019
Microsoft employees have long asked for the company's internal meetings to work better.

They're getting their wish, thanks to Microsoft Teams and the company's meeting room solution, Microsoft Teams Rooms. Teams and Teams Rooms are addressing longstanding pain points that get in the way of starting a meeting quickly. This new meeting experience has been rolled out in all conference rooms at the company's home offices in the Seattle area. The same upgrade is being rolled out gradually in all company conference rooms around the US and world.

"All 2,435 of our conference rooms in the Puget Sound area have been upgraded with our new state of the art meeting experience," says Matt Hempey, who oversees the employee meeting experience across Microsoft for Core Services Engineering and Operations (CSEO).

Company employees have been very clear that they want meetings to work the same way every time.

"We have been laser focused on making that happen," Hempey says. "Our employees should expect a consistent experience regardless of which conference room they happen to be in."
Making meetings simpler

Meetings in Microsoft Teams happen much more simply than they did on Skype for Business.

"Now I have just one way to join meetings," Hempey says. "In the car, on my phone, on my desktop, in a coffee shop, or in the meeting room—I go to the same place, Teams, and hit the same button, 'Join.'"

Employees can also use "One Touch Join" to join their meeting from a conference room, which works great when a meeting room is reserved in advance. But employees often find it difficult to add a room to a meeting on the fly. "It can be really confusing when you don't see a 'Join' button for your meeting," Hempey says.

To fix this, Microsoft is introducing a new Teams feature called "Proximity Join."

What is it and how does it work?

Imagine an employee wants to turn an online meeting into an in-person meeting. They find an empty room, they sit down, and join their meeting. Their laptop notices that it's in a conference room and asks the employee if he or she wants to send their meeting to the room.

"We detected this conference room is close to you, do you want to turn this into a meeting?" If they click "yes," their machine automatically calls the room, they answer the call and are suddenly in their very own meeting. Audio turns on, video lights up, and any content being shared on the call is automatically shared to the room (or vice versa).

Attendees also get improved audio and video, better overall meeting reliability, and new features like integrated meeting notes and persistent meeting chat, Hempey says …
Imagine two employees are chatting and decide they want to turn their conversation into an actual meeting. They walk into an empty conference room and a new "Proximity Join" feature in Microsoft Teams (shown here) will ask them if they want to turn their conversation into a meeting. If they say "yes," a meeting will immediately start.

Smart devices speed up the pace of improvements
Hempey says where Teams Rooms have been rolled out, the impact has been very noticeable for users, but even more so for the team in charge of trying to improve the experience.

"In the past year, the number of help desk tickets filed by users saying, 'I have a problem in this room, can you help me fix it?' has dropped by half," he says. "The number of tickets that we're fixing before someone reports them has gone up—our technology is letting us know when something is broken so we can fix it before our users see it."

Another benefit? The experience is always getting better.

When there are improvements available, all rooms receive the upgrade at once, rather than have them deployed one-by-one, room-by-room.

"If we wanted to upgrade our old devices, we would have had to have a technician visit every room," says Stacie Kartes, a program manager on the meeting experience team. "Now it's a software update that we can push whenever we want to."

Usage and health information that the devices send back to the team will be used to improve the meeting experience.

"Now, here in Puget Sound, we can detect that there is a wire unplugged in Prague," Hempey says. Previously the only way to find problems was to randomly service a room or when someone filed a complaint. "This a game-changer in terms of reliability."

In many cases, the upgrade included new devices, wiring, cameras, and screens, says Jaimie Faccone, a program manager on the CSEO meeting experience team. "Having the same, predictable experience in every conference room has proven to be a big help," she says.

Looking ahead, having a smart device in each room means there are loads of potential improvements that the team can make once it starts collecting data on usage, what works, and what doesn't.

"We have lots of ideas on where we can go with this," Kartes says, explaining that the team can study what features employees stumble over the most, and then build solutions to make them work better.
The list of specific enhancements that the team can make is growing.

"We're going to be able to do things like transcribe meeting notes, do language translation in real time, and use facial recognition to recognize people as they walk into the room," she says.
For our range of Microsoft Teams Rooms compatible devices please visit the following pages: