Introducing Microsoft Teams Rooms
Last updated: 10th September 2019
Two years ago Microsoft introduced the next generation of Skype Room Systems, a center of room control with one-touch join, to add the best audio and video to your meetings. Microsoft started with one hardware partner and now work with six leading device manufacturers, to deliver the best quality experiences for both Skype for Business and Microsoft Teams meetings. To date, customers have conducted more than 130 million minutes of meetings through Skype Room Systems.
Microsoft goal is to extend Teams meetings into every space from small huddle rooms to large conference rooms.
Microsoft recently announced and delivered several capabilities that enhance the Teams Meetings experience in meeting rooms:
Proximity detection, makes it easy to discover and add nearby, available Microsoft Teams Rooms to any meeting
Companion experiences with mobile, to join your devices in content-only mode
Support for dual screen rooms
Theme Updates, providing Microsoft Teams look and feel
In meeting call controls
Rate my call, call quality rating experience
Microsoft Whiteboard Support
It's important to also note that Microsoft Teams Rooms still work with Skype for Business calls and meetings.
Meetings Simplified
Meetings are easy to schedule, simply use Microsoft Outlook or Microsoft Teams to invite your conference rooms to a meeting just as easily as inviting your colleagues.
Schedule Teams in Outlook
One touch-join
Instantly start your meeting from the center of the room control with one touch.
Microsoft Teams Rooms Console

A
dd nearby meeting room
Proximity based meeting join, for an available Microsoft Teams Room, the Microsoft Teams client on your PC and mobile has a proximity sensor that detects the room and you can add the room easily to the meeting from your pre-join screen on your client.
On your PC the pre-join screen of your meeting will highlight that an Teams Room is nearby.
Add nearby room from your desktop
On your Teams mobile client you can add the room to your meeting and find nearby rooms quickly.
Add Conference Room from your Mobile

Inside the meeting room, the front of the room display and console will show that you are trying to add the room, and simply accept the incoming invitation on the console to bring the room into the meeting.

Proximity join from Microsoft Teams Rooms
Microsoft Teams will automatically join the meeting in content-only mode from your desktop, allowing the room to provide audio and video into the meeting without echo and feedback generated by the other clients in the room.  Also your mobile client will switch to content-only mode after adding the room.
If the Microsoft Teams Room is already in the meeting and you like join from your devices as well, Teams now detects this and recommends to join the meeting with audio off as well.
Pre-join screen when the room is already in the meeting
Theme updates
With this update, Microsoft Teams Room devices console are updated to Microsoft Teams look and feel and themes only apply to Front of room displays but not on meeting room console. This greatly enhances readability of controls on the console as well as make sure color-contrast requirements for accessibility are met. Microsoft understand company branding on the console is important to customers and will enable adding company logo on console in future releases.
In meeting call controls
In meeting call controls for Teams calls/ meetings are now updated to using same familiar universal bar as in Teams PC/ Mobile clients. This is a Teams service-based rollout and doesn't require client build 4.0.105.0. However, Microsoft recommend updating to newer client build so you can get latest Teams client bug fixes and updates.
Rate my call
Microsoft are also rolling out a call quality rating experience similar to the PC and mobile Teams clients after a call or meeting so you can let Microsoft know how your call went. This is a great way for participants to provide feedback about the quality of the audio and video of their calls and meetings to your company's IT and to Microsoft. Microsoft uses this data to ensure that they continue to provide high quality calling and meeting experiences across the ecosystem of Teams personal and shared devices. This dialog dismisses automatically after few seconds if no rating was provided.
Microsoft Whiteboard support
Microsoft have also completed the rollout of Microsoft Whiteboard across Teams client including Microsoft Teams room devices. Microsoft Teams Rooms can now receive and render Microsoft Whiteboard on the front of the room displays when shared from PC/ Web/ Mobile Teams client. Support for starting a whiteboard session from Microsoft Teams Rooms will be added in future releases. If you have /or add touch front of room displays you can contribute to the shared Microsoft Whiteboard in the room to collaborate with remote participants.

Learn more about how Microsoft has deployed Microsoft Teams and Microsoft Teams Rooms internally to more than 2,400 meeting rooms around the globe and how Microsoft is using the integrated meeting solution to reshape the collaborative environment into a simple, consistent, and reliable experience for thousands of employees.
Further information may be found on the following pages of the range of Microsoft Teams Rooms compatible devices available from Pugh.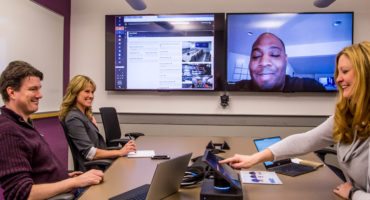 Last updated:11th September 2019
Microsoft employees have long asked for the company's internal meetings to work better. They're getting their wish, thanks to Microsoft Teams and the company's meeting room solution, Microsoft Teams Rooms.
Read more

»