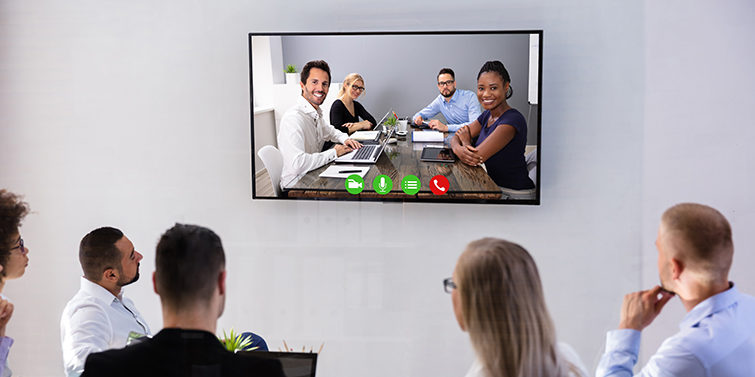 Redefine teamwork and collaboration with a modern meeting room!
Last updated: 11th February 2020
Author: Mark Price, Pugh Computers Ltd, Technology Strategist for Modern Workplace
What is a modern meeting?
With the recent developments in cloud technologies and widespread network connectivity, meeting environments have changed. Modern meetings have naturally become more agile to adapt to their surroundings. Given these capabilities, a meeting doesn't necessarily have to be held in a meeting room anymore. Meetings are now taking place more and more frequently in coffee shops, on trains, in huddle spaces or even at home, be it planned or ad hoc. In fact, you can now have a quality meeting experience using as little as Microsoft Teams and a mobile phone.
So… are meeting rooms a thing of the past?
You may be forgiven for thinking this, but it's not the case. Perhaps it's true for your legacy video-conferencing meeting rooms, with long, cumbersome setup times and poor-quality audio-visuals, but it's certainly not the case for modern meeting rooms, which still have so much to offer! By bringing your team closer together and getting them working as one, no matter where they're based, modern meeting rooms are redefining teamwork and collaboration in the workplace. Also, by reducing the travelling required, they are a greener, more environmentally friendly option too!
A modern meeting room can consist of any number of hardware components, including:
When these hardware components are combined with the meeting, audio conferencing and telephony functionalities provided by Microsoft Teams, the resulting meeting room solutions are always of the highest standard and offer exceptional productivity.
Now you want a modern meeting room, right?
Good news – all the hardware, software and vendors discussed are available from Pugh right now!
Pugh have established great long-standing partnerships with several leading technology vendors, allowing us to boast an extensive range of software and hardware solutions. We work with our customers to understand their exact requirements and pain points, so that we can develop bespoke meeting room solutions to solve each customer's unique problem. As part of our service, we work with both business decision-makers and IT decision-makers. By capturing the perspectives, goals and concerns of both sets of decision-makers, we ensure that our solutions solve genuine business problems while being technically feasible.
Our solutions can be packaged up into any possible size, ranging from a single interactive display unit to multiple fully kitted out cutting-edge Microsoft Teams meeting rooms. Our hardware is also compatible with other systems, including Zoom, Cisco and G-Suite, so if you're not using Microsoft Teams, we still have solutions suitable for you. Depending on your needs, demos, installation and training may also be available.
Contact Pugh today to see how we can revitalise your meetings with a modern meeting room!
P.S. Keep an eye out over the next few weeks as we deep dive into each area of hardware and consultancy services in more detail.
Next in the series – screens & interactive displays.
Useful Links
Featured Vendors
SMART, Promethean, ViewSonic, Logitech, Jabra, Lenovo