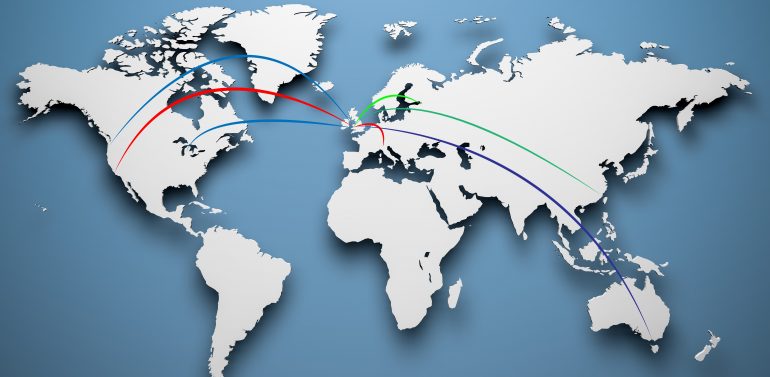 Ceredigion's Gateway to Silicon Valley and Beyond | Pugh Computers
Last updated: 3rd December 2020
Author: Mark Price
By now, we should all be familiar with Pugh Computers and their story. We have covered their rich 40-year history, met most of their team and seen how they have constantly adapted their business model in an ever-changing technology industry. This month, we explore the partnerships they have with world-leading technology companies and find out how they maintain these worldwide relationships.
The serene coast of West Wales is a long way away from the glitz and glamour of Silicon Valley in California, and you may be forgiven for not seeing the connection between these two very distinct and contrasting regions. In fact, the same goes for the fashion-centric metropolis of Milan in Italy, the history-rich city of Saint Petersburg in Russia and even the beautiful island city of Xiamen in China, beside the Taiwan Strait. However, these are all places that Pugh head to daily, albeit virtually from their modest head office in Llanon, Ceredigion.
With Pugh specialising in developing tailored technology solutions for their customers, a key enabler for them is having an extensive portfolio of software, hardware and services to work with. This sees Pugh constantly expanding their portfolio by creating new partnerships with vendors across the world, adding to the strong partnerships they already have with world-leading technology companies including Microsoft, Adobe, Sophos, Yealink, Veeam, QSR and TechSmith.
In fact, the list of places does not end there. Given the international status of these partners, Pugh are also regularly communicating and collaborating with contacts in Australia, Seattle, San Jose, Michigan, Munich, Warsaw, Dublin, Oxford, Reading and many more regions. Taking all of this into account, you realise that Pugh's business connections really do span the globe. But how is all of this made possible? That is where Pugh's culture of blended working comes into play.
Most of us are now aware of and may even be highly experienced in remote working, but blended working takes this concept to another level. With an effective blended working environment, there is no longer a difference between working from the office and working from home. There is no more "I can't do that right now as I'm working from home" or "I'll get that done the next time I'm in the office". The office and home environments become one as they are blended seamlessly by the technology.
Blended working is made possible by a combination of technology and people. This technology lets you access your phone on any device at any time, lets you share your screen with anybody and work on documents together in real time, and lets you attend worldwide events with just one touch. Pugh's adoption of this modern workplace technology and the willingness of their staff to embrace this culture of blended working has seen them overcome obstacles such as long geographical distances, differing time zones and even language barriers, that historically would have simply meant that these partnerships would not have worked.
Pugh's vision and ambition within this era of digital transformation is seeing them tear down physical obstacles and geographical boundaries, using today's cutting-edge modern technology as Ceredigion's gateway to Silicon Valley and beyond.
This article was first published by EGO Magazine October 2020. 
The EGO® in "Aberystwyth & Aberaeron EGO®" stands for Economic Growth Opportunity and we believe that the magazine helps stimulate economic growth in both towns and their surrounding areas by encouraging people to spend their money locally. We also hope our name suggests that Aberystwyth and Aberaeron should have more of an ego and shout a lot louder about what they have to offer! At the EGO® we believe that Aberystwyth and Aberaeron punch well above their weight, and should be proud of doing so.
Useful Links
EGO December 2020 – Pugh's Worldwide Partners
EGO November 2020 – Technical Team, Elfed Jenkins and Mark Price
EGO October 2020 – Relationship Director, Barry Lewis and Sales Team
EGO August 2020 – Marketing Team, Chris Jones and Jamie Owen
EGO July 2020 – Technical Director, Eifion Evans
EGO June 2020 – Sales and Operations Director, Dylan Davies
EGO May 2020 – Managing Director, Jeffrey Pugh