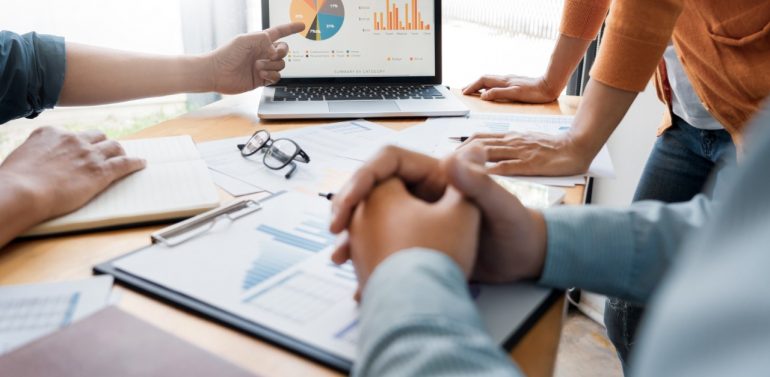 Delivering Results with a Modern Marketing Strategy | Pugh Computers
Last updated: 1st August 2020
Author: Mark Price
As we continue to follow Pugh's story, this month we introduce you to their marketing team and gain insights into the crucial part that they play in bringing Pugh's customers the latest product news and educating them on the effective use of technology solutions and services. We also discover that the key to Pugh's marketing success is their drive to extend their marketing reach, gaining customer insights and delivering the right messages based on where customers are in the sales cycle.
Pugh's marketing team has a very energetic and vibrant feel to it, headed up by two young professionals who are eager to succeed. Chris and Jamie are both very much in tune with modern technology and when combined with the core marketing models and concepts that both have studied, they have managed to consistently deliver impressive campaigns.
At Pugh, marketing is much more than just being creative. Their marketing team's keen interest in technology is built with continuous training and professional development to provide them with a fundamental understanding of the technology solutions that Pugh offer. In fact, this applies to all of Pugh's departments, with the sales, marketing and technical teams all able to comfortably work together with a shared knowledge base. In turn, this allows Pugh to truly understand their customers' problems and align them to solutions that are tailored to their precise needs.
We are all aware of the recent and substantial increase in home working and during this time, the fast forward button has been hit for the technology industry. With work environments changing overnight, Pugh's modern workplace setup has allowed their team to stay connected when working remotely. Jamie and Chris have been able to continue their monthly sizzle meetings with the rest of the team virtually to keep everybody up to date with new technologies, latest customer needs, potential opportunities, current campaigns and business focus, with a particular highlight on storytelling to fully engage with customers.
When bringing Chris and Jamie onboard, Pugh were continuing their successful tradition of recruiting locally and offering aspiring professionals a quality career opportunity. Pugh actively encourage their staff to develop themselves both personally and professionally, with Jamie and Chris also benefitting greatly from the influence and leadership of Managing Director Jeffrey Pugh.
By employing trusted marketing models and embracing modern tools and methods, Pugh have developed a strong brand identity and a marketing strategy that ensures their customers are always kept aware of how they can solve their unique problems with the most relevant and innovative technology solutions.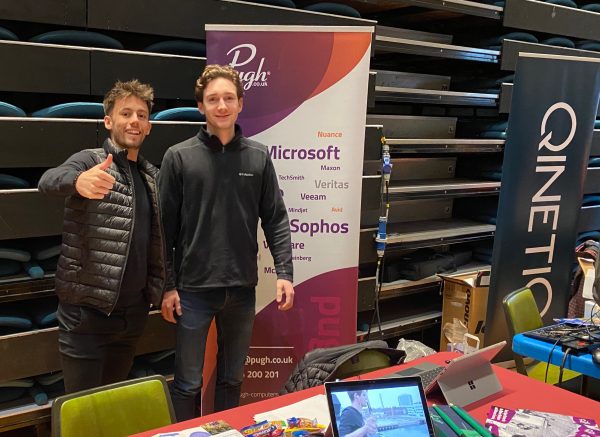 Chris Jones
Marketing Manager
Education – Plascrug Primary School, Penglais Secondary School
Joined Pugh – September 2015
Responsibilities – Coordinating an integrated approach to sales and marketing, account-based marketing, development of business creativity
Professional development at Pugh – ISMM Level 3 Certificate in Sales and Marketing, CIM Level 4 Certificate in Professional Marketing
I have been at Pugh for almost five years now and I have enjoyed every minute of it. Despite my relatively young age, I feel fully respected by the team, making it a great environment to work in. I work particularly closely with the sales team and their constant encouragement and positive feedback drives me on to achieve more and to continuously better myself in my role.
Jamie Owen
Business Development Manager
Education – Llanrhystud Primary School, Aberaeron Secondary School, Penglais Sixth Form, graduated from Loughborough University in Sport Management
Joined Pugh – June 2017
Responsibilities – Business development, taking new products to market, extending marketing reach, developing partner relationships at an executive level
Professional development at Pugh – CIM Level 6 Diploma in Professional Marketing
I am now into my fourth year at Pugh and within that time, I have developed significantly both personally and professionally. I take every opportunity that I get to attend courses and events to discover new products and the latest trends. I also enjoy meeting and networking with partners and senior executives to develop those all-important long-standing.
This article was first published by EGO Magazine August 2020. 
The EGO® in "Aberystwyth & Aberaeron EGO®" stands for Economic Growth Opportunity and we believe that the magazine helps stimulate economic growth in both towns and their surrounding areas by encouraging people to spend their money locally. We also hope our name suggests that Aberystwyth and Aberaeron should have more of an ego and shout a lot louder about what they have to offer! At the EGO® we believe that Aberystwyth and Aberaeron punch well above their weight, and should be proud of doing so. 
Useful Links
EGO October 2020 – Barry Lewis and Sales Team
EGO August 2020 – Marketing Team, Chris Jones and Jamie Owen
EGO July 2020 – Technical Director, Eifion Evans
EGO June 2020 – Sales and Operations Director, Dylan Davies
EGO May 2020 – Managing Director, Jeffrey Pugh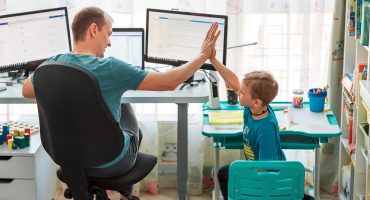 Last updated:1st May 2020
By now, most of us are settled into some sort of work from home routine. At the beginning, it's a case of getting things done, even if results aren't quite up to your usual standards. It's about compromising, and this is generally acceptable given the difficult circumstances. Then as time goes on, you start to want more...
Read more

»