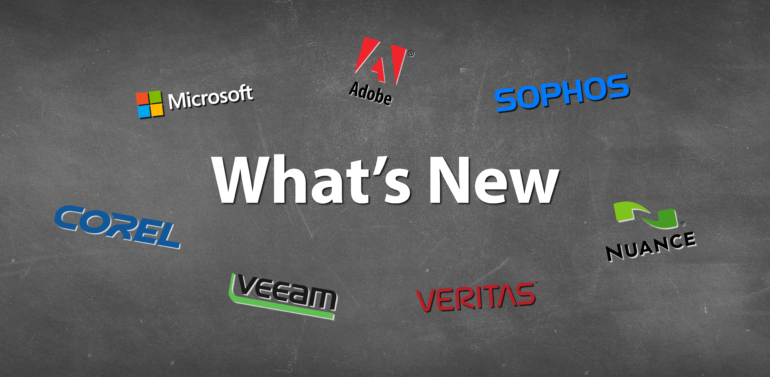 What's New – January 2019
Last updated: 11th January 2019
January What's New brings important news from Adobe as they announce a price increase as well as introducing a new Shared Device License. We also have new features and updates to Microsoft 365, Articulate, GFI Software and Kerio
**Adobe Price Increase** – On 1 February 2019, Adobe will increase its subscription prices for Adobe Creative Cloud, Acrobat DC and Adobe Captivate. The new Adobe prices will apply on or after 1 February for customers who purchase subscriptions via the Value Incentive Plan (VIP) and Enterprise Term Licence Agreement (ETLA). For VIP members who have an existing 3-year commit and existing ETLA members, prices won't change until the end of the committed term. Read more
NEW Adobe Shared Device Licenses – Adobe have introduced a new way to give your students and faculty access to the world's best creative apps and services in shared environments like labs, libraries, and classrooms. With new shared device licensing, they can use the latest versions of Creative Cloud – including cloud-based apps and services – on entitled school machines. Read more
Access new cloud-based apps when using entitled devices.
Use Adobe Portfolio to create websites that showcase their work.
Find the perfect font for any creative project with Adobe Fonts.
Store and sync their work to the cloud so they can access it anywhere.
Microsoft 365 Update
PowerPoint captions and subtitles [0:21]
Word acronym suggestions [2:08]
PowerPoint slide reuse [2:48]
Office for MacOS Dark Mode [4:20]
Outlook for iOS redesign [5:40]
Microsoft Bookings improvements [7:40]
Password-less access management [9:06]
Articulate 360 –  gives you everything you need for course development. And with upcoming releases, it'll be even easier and faster to create engaging e-learning.
Here are just some of the latest features released:
A new blocks shortcut bar in Rise to help you build lessons quickly and easily
A conditional seekbar in Storyline 360 that lets you control learner progress
Folders and search features to help you find and organize projects in Articulate Review
And gorgeous new templates and characters in the Content Library
GFI Archiver 14.1 – enables you to automatically store all company emails and files in a central, secure environment that can be accessed quickly and searched easily. With the recent Version 14.1 of GFI Archiver we improved the overall performance and delivering additional fixes
Journal connection via EWS not working when TLS1.0 is disabled on Archiver, Exchange or both
Notifications are failing to be sent to GFI Archiver Administrator
No email report is sent when trying to send immediately or schedule a report for Job Search Report
Filter toolbar is disabled for 'Data Integrity' report page.
Records not displayed in User Audit Trail when Group by User view is selected
Journal connection via EWS not working when TLS1.0 is disabled and using manual host
Kerio Connect – makes email, calendars, contacts and task management easy and affordable. The fully featured enterprise-class email solution has powerful security protecting against hacking and malicious attacks with SSL encryption, S/MIME, anti-spam and anti-virus tools, and more
With the recent Version 9.2.8 of Kerio Connect we are providing:
Support for Mac OS Mojave
Support for Outlook 2019
Plus more additional fixes.