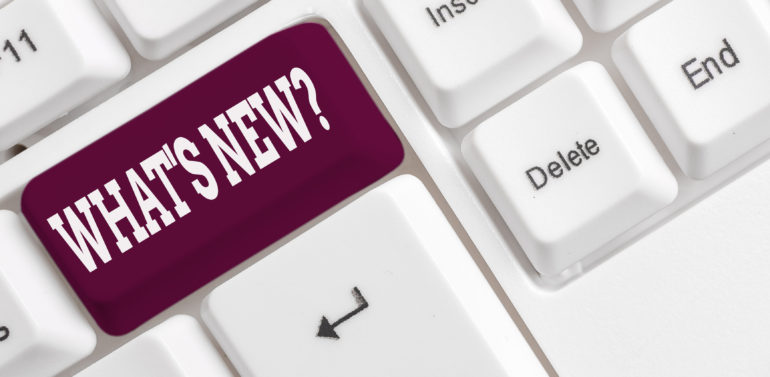 What's New – January 2020
Last updated: 13th January 2020
Author: Jamie Owen, Pugh Computers Ltd, Business Development Manager
It's a new year and we have a load of new products and updates to share in January's What's New. From Microsoft we have monthly updates which unpack what's new with collaboration, design, and mobile productivity in Microsoft 365 as well as a recap of all the highlights and resources introduced in 2019 from Microsoft EDU. We also have new products from Sophos who introduce Managed Threat Response, ViewSonic with 98″ Inglass Interactive Board, and coming soon Veeam v10 Availability Suite.
Microsoft Monthly What's New 
This month, Microsoft unpack what's new with collaboration, design, and mobile productivity in Microsoft 365.
1:09 Microsoft Fluid Framework
4:56 Mobile productivity
6:30 Microproductivity
9:12 Fluent for iOS and Android
From Sheet View in Excel to the new Microsoft Endpoint Manager, discover what's new with Microsoft 365
0:17 Sheet View in Excel
1:09 Dark Mode in OneNote 2016
2:13 Windows 10 November 2019 update
2:52 Cloud App Security and Azure
4:19 Upload files in Microsoft Forms
4:53 Microsoft Endpoint Manager
5:33 Sticky Notes in Outlook on the web
6:03 Microsoft Productivity Score
What's New in Microsoft EDU
With the first half of the school year wrapping up in most places and the holidays upon us, Microsoft wanted to take this opportunity to highlight the resources introduced in 2019 that you said were most helpful to you and your students. And Microsoft wanted to make sure you didn't miss anything that could have a positive impact on your instruction going forward.

Sophos Managed Threat Response (MTR) – provides 24/7 threat hunting, detection, and response capabilities delivered by an expert team as a fully-managed service. Sophos MTR arms you with a highly-trained team of threat hunters and response experts who:
Proactively hunt for and validate potential threats and incidents
Use all available information to determine the scope and severity of threats
Apply the appropriate business context for valid threats
Initiate actions to remotely disrupt, contain, and neutralize threats
Provide actionable advice for addressing the root cause of recurring incidents
Authorised Jabra PanaCast Partner – We are pleased to announce that we are now a Jabra Authorised PanaCast Partner. Our team can help transform your meeting experience with the new Jabra Panacast plug-and-play video solution using 3 cameras and real-time image stitching to give a full 180° view of the room. Jabra has elevated Microsoft's collaboration experience by delivering the highest quality video and voice solutions to customers – solutions that seamlessly integrate into Microsoft's platform.
Here is the whole range of Jabra products
Jabra Panacast
Jabra Evolve (Headset range)
Jabra Speak (Speakerphone range)
Jabra BlueParrot

Veeam Availability Suite v10 – Increase availability, portability and extensibility for your data with NEW Veeam Availability Suite v10. Coming soon 18th February 2020
Seriously Powerful NAS Backup – New capabilities that redefine NAS data protection to deal with the world of massive file data.
Instant Recovery for Instant Business Agility – Data recovery and migration made easy with instant recovery of ANY Veeam backup to VMware vSphere.
Data stays safe. Ransomware stays OUT – 100% ransomware-proof backups with S3 object lock functionality and immutable backups
Register for launch event here

ViewSonic Inglass 98" 4K Interactive Flat Panel (IFP9850-3) – The ViewBoard® IFP50 series embraces UFT (Ultra Fine Touch) Technology to offer more precise writing and faster processing time than traditional IR panels. Smooth, dual-pen writing with our new, slim 2.5mm pens enables groups of teachers and students to work efficiently on any detailed tasks that require the use of accurate, fine tipped pens. The ViewBoard® IFP50 series is designed with a slim bezel to broaden your viewing experience so that even at the edge you can write clearly and confidently.
ViewBoard® 98" 4K Interactive Display
UFT (Ultra Fine Touch) Technology
myViewBoard™ digital whiteboard software
ViewBoard® Cast 4-way split screen content sharing software
SmartPort™ shared front USB ports for internal & external PCs
2.0 Stereo sound