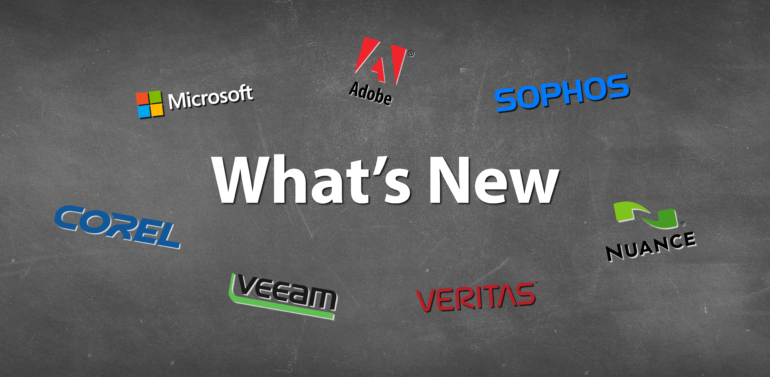 What's New – February 2019
Last updated: 14th February 2019
February What's New includes new creative software from Corel for 2D & 3D design as well as a brand new video editing suite. We also bring you the monthly update from Microsoft regarding enhancements to Microsoft 365 and Office 365, and the all-new Surface Studio 2. 
Corel Video Studio Pro 2019 – Transform your photos and videos into stunning movies. Corel VideoStudio Pro 2019 expands its award-winning combination of ease of use and breakthrough creativity with fun new features to help you tell your story. Tap into hundreds of creative effects, create elegant titles, show multiple video simultaneously, and more! Turn your memories into movies with VideoStudio Pro 2019.
NEW Color correction controls
NEW Morph and Seamless transitions
NEW Video and screen recorder
NEW Tiny planet and rabbit hole effects
ENHANCED Title editor and custom motions
Corel Video Studio Ultimate 2019 – Celebrate the hands-on editing power in new VideoStudio Ultimate and explore 2,000+ customizable filters, titles, transitions, and premium effects. Create video masks, edit 360 videos, explore color grading, and stabilize shaky footage for a polished production. Incredible, intuitive tools will bring your projects to life in ways you never imagined
NEW Color Grading
NEW Dynamic Split Screen video controls
NEW Morph and Seamless transitions
NEW Video and screen recording software
NEW Premium plugins and video effects
Corel CAD 2019 – Enhance your visual communication expertise with the precision of superior 2D drafting and 3D design tools available in CorelCAD™ 2019. It's the smart, affordable solution for drawing detailed elements in technical design. With native .DWG file support, and optimization for Windows and macOS, this computer aided design software can increase productivity and performance.
NEW PolySolid – Now you can draw 3D solid objects in the shape of polygonal walls
NEW PushPull – Intuitively modify 3D solid objects or bounded areas by extrusion
NEW ChamferEdges – Bevel the edges of 3D solid objects and tap into options like Face and Loop
 NEW Layer palette – Enjoy access to layer controls without leaving the drawing UI
 NEW Selection highlighting – Choose colored highlighting instead of legacy dashed-style highlighting
Microsoft January Update – Based on Kirk Koenigsbauer's monthly New to Microsoft 365 communication, Jim Naroski covers recent enhancement to Microsoft 365 and Office 365.
Microsoft Teams improvements [0:48]
Outlook on the web and LinkedIn [2:48]
Microsoft Forms and Stream [3:38]
Microsoft Stream and PowerPoint [4:36]
Yammer conversations web part [5:12]
Privacy and compliance updates [6:22]
OneDrive Files On-Demand [8:02]
SharePoint Migration Tool [8:51]
NEW Microsoft Surface Studio 2 – Dive into brilliant colour, blazing graphics and fast processors that fuel your creativity. Work upright at your desktop or down low at your drafting table with intuitive tools designed to inspire.
Display: 28" PixelSense™ Display with 4500 x 3000 (192 PPI) resolution, 3:2 aspect ratio, and 10 point multi-touch.
Storage: 1TB or 2TB solid-state drive (SSD)
Dimensions: Display: 25.1" x 17.3" x 0.5" (637.35 mm x 438.90 mm x 12.50 mm)
Connections: 4 x USB 3.0 (one high power port), full-size SD™ card reader (SDXC) compatible, USB-C, 3.5 mm headphone jack, 1 Gigabit Ethernet port
Pugh Catalogue

Winter December 2017
30th November 2017

Autumn 2016 Catalogue
1st October 2016