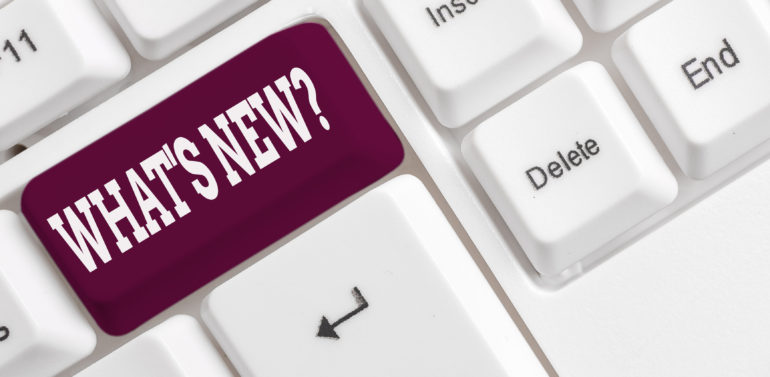 What's New – July 2020
Last updated: 28th July 2020
As we take a look at What's New in July 2020, Lenovo have released the all-new ThinkBook Plus. Microsoft have introduced new updates to Teams, including 7×7 large gallery view to boost student engagement. A new Microsoft Teams app is now available on SMART Learning Suite Online. Jabra have a Public Sector promotion running on their range of professional audio and video conferencing solutions certified for Microsoft Teams. Don't miss out on our Adobe webinar – Breaking Down Barriers in Education Plus, much more!
Lenovo ThinkBook Plus – When you have to work from anywhere, you need a modern device that can keep up with your job demands and help you stay focused without distractions. Stay productive, efficient, connected and stylish with the all new ThinkBook Plus. With an e-ink display on its lid, you can take notes, sketch, read, annotate and stay on top of your calendar and mails, without even opening the lid. Power-packed with top-notch features like Modern Standby, Smart Power On, Skype Hot Keys and WiFi 6, ThinkBook Plus can help you Modernize Multitasking.
Productive – and good looking. The innovative cover display on the Lenovo ThinkBook Plus can show your essential notifications – no more checking your smartphone for email during meetings. You can also use it as an e-reader and to review and annotate PDF documents.
Sketch & see it on the big screen. You can also take notes or sketch on the top display with the digital pen that's included. Plus, the pen attaches to either side of the top cover magnetically.
Wakes in less than a second. With Modern Standby, you can wake the Lenovo ThinkBook Plus from sleep in less than half of a second – and be able to browse the web a second later. Plus, with WiFi 6, you get fast and reliable connections, even on networks with hundreds of devices attached, like busy airports or conference halls.
When performance counts. With up to 10th Gen Intel® Core™ processors and Intel® Optane™, the Lenovo ThinkBook Plus is faster than ever no matter the task. Plus, with up to 10 hours* of battery life, there's no need to worry about electrical outlets when you're on the go. If you're running low, though, Rapid Charge boosts your battery life to 80% in just an hour.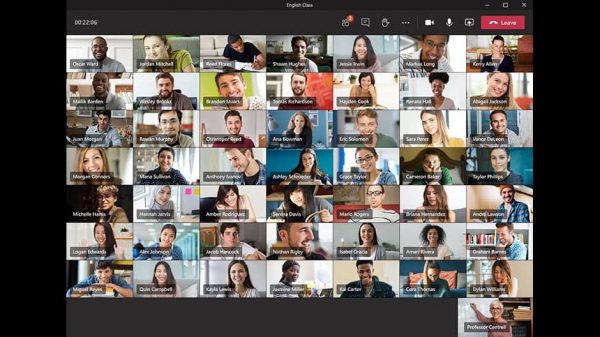 Microsoft Teams updates – New Teams features support hybrid learning. Now more than ever it's important to find ways to connect with students and keep them engaged, motivated, and safe. Microsoft are excited to announce several new Teams for Education experiences that support remote learning, including:
SMART Learning Suite Online integration with Microsoft Teams – A new Microsoft Teams® app for SMART Learning Suite Online will allow teachers to create, edit, deliver and share SMART Learning Suite Online lessons directly within Microsoft Teams. The app will be available from the Microsoft app store and can be deployed by administrators or teachers. This integration is included as part of a SMART Learning Suite subscription. When enabled, the new Teams app will allow:
Teachers to create, edit and deliver interactive SMART Learning Suite Online lessons from within Microsoft Teams.
Teachers to share SMART Learning Suite Online lessons with students via a shared tab in a team or as a Teams assignment. Sharing a lesson will also automatically generate a post for students with a link to the lesson.
Students to open a shared lesson in Teams by clicking on the lesson tab, assignment or post, and signing in.
Jabra Public Sector Promotion – Ready for Teams. Boost collaboration in the Public Sector with discounted Jabra professional audio and video conferencing solutions certified for Microsoft Teams.
Corded USB Headsets – Jabra Evolve2 40 Mono USB-A or USB-C, UC or MS / Jabra Evolve2 40 Stereo USB-A or USB-C, UC or MS
Wireless USB Headsets – Jabra Evolve2 65 Mono, USB-A or USB-C, UC or MS / Jabra Evolve2 65 Mono with stand, USB-A or USB-C, US or MS / Jabra Evolve2 65 Stereo, USB-A or USB-C, UC or MS / Jabra Evolve2 65 Stereo with stand, USB-A or USB-C, UC or MS
Speakerphones – Jabra Speak 710 USB/BT, UC or MS / Jabra Speak 750 USB/BT, UC or MS
Video Conferencing Camera – Jabra PanaCast / Jabra PanaCast Hub
What's New with Microsoft 365 | June 2020 – This month, Microsoft cover new syncing options in Microsoft Edge for you and your users, improvements for managing Microsoft 365 Groups, how to get the new FastTrack Microsoft 365 set-up guides, and other updates in the admin center and the productivity apps.
0:00 – Welcome to the latest episode of What's New with Microsoft 365
0:37 – Microsoft Edge
1:29 – Microsoft 365 Groups
2:13 – Safe Documents
3:21 – Remote Work Setup Guides
4:09 – Microsoft Forms in Teams
4:54 – Visio add-in Excel
5:44 – Visio for the web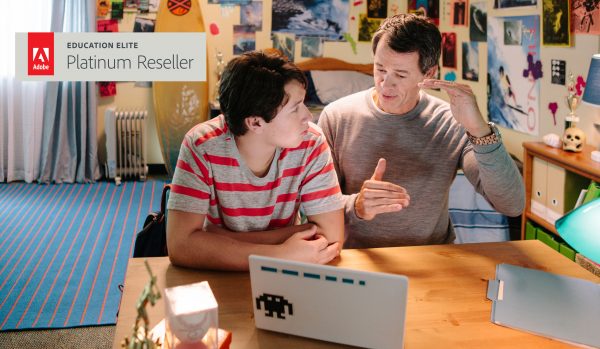 Join our Webinar: Adobe – Breaking Down Barriers in Education
Monday 10th August at 14:00
With many students recently learning from home, discover how Adobe's Named User Licenses can help you create a successful blended learning environment. With one simple login, students can seamlessly transition between home and classroom learning and keep access to all their work.
We will also run through the best devices to complement this licensing model to keep your students creative and productive wherever they are.
This webinar is interactive so you can ask questions throughout and it will also be recorded so you can share it with colleagues and watch it back at any time.

Carbonite Migrate simplifies Windows Server EOS projects – For most businesses, the risks of running outdated applications narrows the decision down to two choices: upgrading on-premises or re-hosting in the cloud. Either way, large quantities of data will have to be migrated from one system to another. Both paths can be simplified by using Carbonite Migrate to facilitate the move. Carbonite® Migrate does the following:
Captures the entire server workload without needing to know application or OS configuration details
Supports standalone server configurations
Uses real-time replication to keep the target in sync and ensure near-zero downtime
Supports numerous applications, including most versions of SQL Server, and Windows Server 2008 and above
Supports cloud orchestration

Veeam Availability Orchestrator v3 – Veeam® continues innovation by adding FULL recovery orchestration support for NetApp ONTAP snapshots! Directly orchestrate failover from NetApp ONTAP storage clusters to a secondary DR site or a new data center in the case of data migration. In addition, NetApp ONTAP users are able to leverage the existing Veeam Availability Orchestrator feature set in order to:
Maximize service availability: Get near-zero RTOs and RPOs for all applications and data with purpose-built orchestration engine.
Skyrocket operational efficiencies: Eliminate manual, expensive processes with one-click orchestration and automation.
Plan with total confidence: Constantly validate recoverability and compliance of DR plans with fully automated, non-disruptive testing and documentation.

Veritas NetBackup 8.3 -The new updates are all around reducing risk, optimizing costs, strengthening ransomware resiliency, and managing multi-cloud environments at scale. The core of EDSP is NetBackup, now the company is including Veritas Resiliency Platform (VRP) and CloudPoint to give users a single platform that protects data wherever it is.

HP Partner – Pleased to announce that we are now HP partners. Stay tuned for more information soon.
Aberystwyth EGO July Edition – EGO have followed Pugh's journey from the very beginning through to both providing and adopting today's modern workplace technology solutions. This month, EGO look behind the scenes at the extraordinary lengths Pugh go to bring their customers the very latest technology innovations, and discover that at Pugh, a sale really is much more than just a sale. Read more…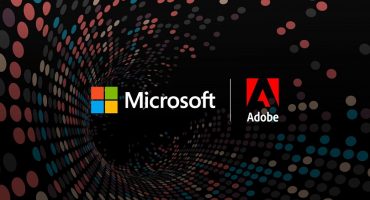 Last updated:24th May 2020
Adobe and Microsoft are two of the biggest names in technology. If you use any sort of computing device, the chances are that you use at least some of their tools, whether it's exploring your creativity with Adobe Photoshop or Illustrator, or getting productive with Microsoft Word, Excel or PowerPoint. And let's not forget Adobe Acrobat; how would we cope without this staple PDF tool?
Read more

»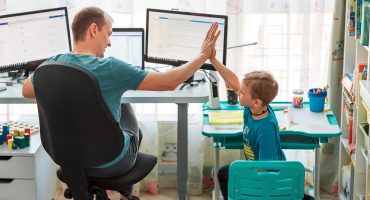 Last updated:1st May 2020
By now, most of us are settled into some sort of work from home routine. At the beginning, it's a case of getting things done, even if results aren't quite up to your usual standards. It's about compromising, and this is generally acceptable given the difficult circumstances. Then as time goes on, you start to want more...
Read more

»