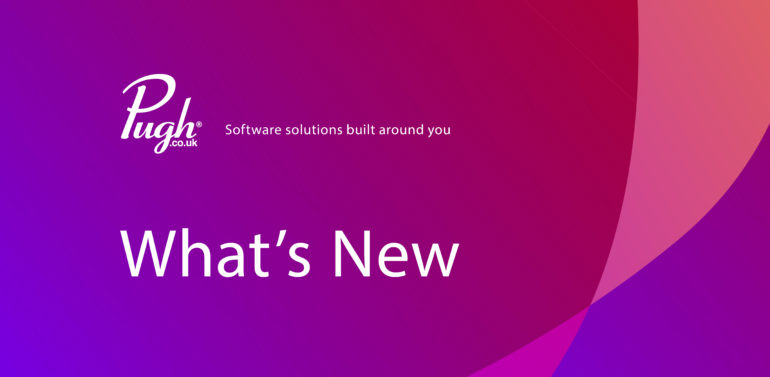 What's New – September 2018
Last updated: 3rd September 2018
This month What's New includes major new release of Adobe Technical Communication Suite 2019, Security back up software from Retrospect & Acronis, New Virtualisation for Mac with Parallels Desktop and a host of new updates in Microsoft Teams and Power Bi
Adobe Technical Communication Suite (2019 Release) – The 2019 release of Adobe Technical Communication Suite is all you need to transform technical content into exceptional experiences. Easily author long, complex XML and non-XML documents. Deliver highly personalised interactive Help experiences with best-in-class search. Create responsive eLearning content and transform presentations to enable on-demand learning. Collaborate in real time with shared PDF reviews.
Adobe FrameMaker (2019 Release) – Fast. Powerful. Future-ready. Boost performance with the 2019 release of Adobe FrameMaker, built on an all-new 64-bit architecture. Effortlessly work on long, complex XML and non-XML documents. Create rich, immersive content with unmatched image handling capabilities.
Turbocharge your content creation
From PDF to Responsive HTML5. Accelerate your publishing
Getting started with XML/DITA has never been easier
Adobe RoboHelp (2019 Release) – Deliver exceptional Help, policy and knowledgebase content with the 2019 release of Adobe RoboHelp. Create media-rich experiences using HTML5 and CSS3. Customize layouts and templates with a powerful CSS and skin editor. Publish content as Responsive HTML5, PDF, Mobile App and much more to serve customers across all touchpoints.
Reimagine content creation
Any device, format or platform. Discover limitless publishing
Infinite possibilities to collaborate smarter and faster
Adobe Captivate (2019 Release) – Conquer new learning landscapes with a smart authoring tool that lets you create all kinds of fully-responsive eLearning content. Effortlessly design immersive learning experiences with VR and 360° media assets. Amplify video-based learning by easily adding interactivity to your videos.
Virtual Reality: head-turning learning
Responsive eLearning: learning that moves for learners who move

Video-based eLearning: play to learn

PowerPoint to mobile learning: from drab to fab
Advanced eLearning: power when you need it
Adobe Acrobat Pro DC – Polished and professional. That's the impression you'll make when you use Adobe Acrobat Pro DC. Get the complete solution for working with PDF documents at your desk and use Document Cloud services to accomplish more when you're on-the-go. From Adobe, the leader in secure digital documents for over 20 years.
Seriously Smart Scanning
Take your PDF tools to go
E-Signatures. Everywhere.
The tools they want. The security you need.
Adobe Presenter 11.1 – Transform your PowerPoint slides into interactive eLearning with stunning assets and quizzes using Adobe Presenter 11.1. Simultaneously capture your screen content with your webcam video and turn static content into HD videos right from your desktop. Edit videos within the project timeline and publish to popular video sharing sites.
Transform slides into interactive eLearning
Create video tutorials in 3 easy steps
Use analytics for actionable insights
Retrospect Backup 15.5 for Windows and Mac – includes product enhancements, system certifications, and early access to upcoming features. In addition to existing perpetual licensing model, Retrospect are rolling out subscription licensing, starting with Retrospect Solo and Retrospect Desktop
Retrospect Management Console Beta
The Management Console will enable you to monitor and manage up to 100 instances of Retrospect from a single interface–in public beta and currently available at no cost.
Storage Groups Preview
Protect your environment up to 16x faster with a single, centralized destination for Retrospect to use simultaneously. Available now as a preview
Email Global Deduplication
Retrospect only backs up the email once, even if it was sent to a list, and customers back up multiple accounts with the same message.
Email Local Restore
Restore your email to your local Retrospect computer or any Retrospect client machine as EML files, including all attachments.
Email Protection for Dovecot
Protect your Dovecot IMAP email server with Retrospect Email Protection.
System Update Certifications
Retrospect is now certified for the latest platform versions, including Windows Server 2019, macOS Mojave, Ubuntu 18.04, and more.
Acronis True Image 2019 – Never lose another file with the #1 personal back-up software. Make sure you always have dependable copies of your data so you can restore your entire system or individual files. It offers five powerful tools that can make life a lot easier!
Acronis Survival Kit – Puts everything needed for recovery on a single external hard drive – from boot media to backups of the system partition and/or the entire computer.
Acronis Active Protection – Detects and stops ransomware attacks automatically with an integrated AI-based defense, protecting files, system, and now network shares and NAS devices.
Active Disk Cloning – Create an exact replica of either a Windows or Mac system while it is in use, without having to stop and reboot your system. Great for data migration.
Visual Dashboard – Allows users to manage data at a glance with graphic displays of the amount of data backed up, the number of versions, and the types of files.
Backup Clean-up – Enables users to free up disk space by manually selecting and deleting unwanted versions of backups, while helping to avoid recovery conflict issues.
Parallels Desktop 14 for Mac – Whether you need to run Windows programs that don't have Mac versions, or you're making the switch from PC to Mac and need to transfer your data, Parallels Desktop has you covered.
Access Microsoft Office for Windows and Internet Explorer
Quickly move files, applications, and more from a PC to a Mac®
Develop and test across multiple OSes in a virtual machine for Mac
Fast—run Windows applications without slowing down your Mac
Microsoft Teams
From offering a free version to hosting live events, Microsoft Teams continues to evolve as the hub for teamwork in Office 365 to empower teams around the world to achieve more.
Communicate more effectively
Get important notifications while in 'Do not Disturb' mode
Want to focus on a task but still enable certain people to reach you? Then set your status to 'Do not disturb' and still receive calls and 1:1 chats from certain people or phone numbers. To set it up, click your profile pic > Settings > Privacy and follow the prompts.
PowerPoint in meetings just got better
If you've got bandwidth constraints, you can now share just a PowerPoint file (this action uses less bandwidth than a video stream). Participants can navigate through the slides privately, read ahead or look back to review something they missed.
Answer Auto Attendant and Call Queue calls directly from Teams
Guess what? Microsoft Phone System Auto Attendant is now generally available, and Call Queues is in preview. These new capabilities allow you to receive and answer calls from Skype for Business Online's Auto Attendant and Call Queues, directly from Teams
Collaborate more efficiently
Now available: Free version of Microsoft Teams
A free version of Microsoft Teams is now available worldwide in 40 languages. This free version (for up to 300 people) includes unlimited chat messages and search, built-in audio and video calling for individuals, groups, and full team meetups and so much more.
Take private notes and get the whole picture with the new Wiki app
Now you can access your own private wiki and channel wiki pages in one place—the new Wiki app! Find it by selecting More apps on the left side of Teams, then Wiki. In the app, keep your own private notes on the Personal tab, see all the wiki pages you're a part of on the All tab, or get back to ones you've used recently on the Recent tab.
Access your personal wiki from anywhere in Teams
Check out the new wiki slash command. In the command box at the top of Teams, type /wiki, then press Enter and type your note. Press Enter again when you're finished, and the note will go right to the Personal tab in the Wiki app.
Customize your team with 3rd party integrations
Monthly Spotlight – New Apps in Teams: BitBucket, Jira, MailClark and more!
Microsoft are constantly adding new apps to Teams experience and plan on highlighting a few apps that have been making major waves to further enable collaboration.
Bitbucket allows team members to collaborate on code written by developers. Start a conversation with the Bitbucket bot and create a new pull request or search of an existing one that you've already created.
Jira bot enables team members to plan, track and release software. Moreover, with Jira bot you can easily find issues, assign them to team members, make edits, log time against an issue and more.
MailClark lets you collectively manage external messages (email, social media, live chat) all while in Teams
Work with confidence: new features for IT admins
New features for IT Admins
The Teams & Skype for Business Admin Center is continuing to evolve to meet the needs of admins. A few of the updates include:
– A fully integrated Call Analytics Dashboard to provide an overview of call and meeting quality
– Updates in user level policies and organization settings including managing policies for messaging, meeting, calling and guest access in the Admin    Center and via PowerShell
– Easy access to the Teams & Skype for Business Admin Center
New data and reports for Teams
Usage analytics in Power BI for Microsoft 365 – now generally available – allows you to understand how your organization is using Microsoft 365, including Microsoft Teams. Usage analytics includes a Teams usage report and let's you analyze how your employees utilizes various capabilities in Teams like chat, channels, and meetings.
Now available: Microsoft Teams Online Courses for IT Pros
The latest free course provides IT Pros with important information on how to plan for and enable Microsoft Teams for their users including enabling, configuring and best practices for using Teams.
Microsoft Power Bi Desktop – filled with new features including most exciting of which is the Export to PDF feature which is geared towards #1 feature request on UserVoice, printing in Power BI Desktop. There is also exciting update for data scientists and statisticians with our new Python integration.
Reporting
Print reports through Export to PDF
Create bookmark groups
Theming generally available
Slicer restatement
Analytics 
Conditional formatting by values
Python integration
Q&A improvements
Modelling
Data categories  for measures
Statistical DAX functions
Custom Visuals
3AG Systems – Column Chart with Variance
Scatter Chart by Akvelon
Small Multiples Line Chart
Add Natural Languagee Summaries for BI
Pivot Slicer
Data Connectivity
Spark connector generally available
[magazine]