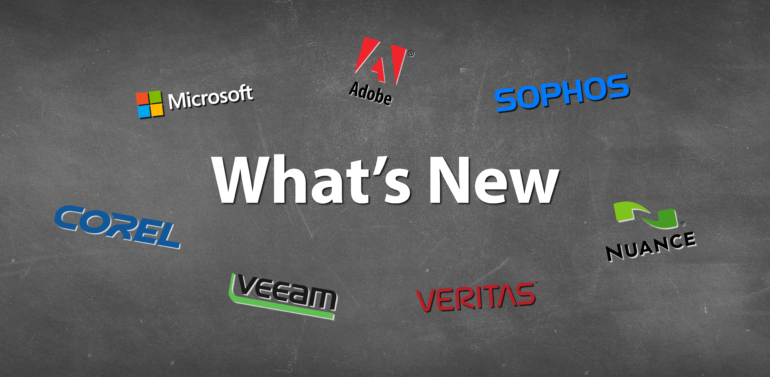 What's New – March 2019
Last updated: 14th March 2019
What's New in March includes a creative software suite and Mindmapping tools from Corel and MindManager 12 for Mac, Classroom Management and Headsets from Netop and AVID, new security software from Retrospect backup v16 and Condusiv Undelete 11. We also bring you the monthly update from Microsoft regarding enhancements to Microsoft 365 and Office 365, and the exciting new HoloLens 2.
CorelDRAW Graphic Suite 2019 – find all the professional vector illustration, layout, photo editing and design tools you need to work faster, smarter, and in more places with this superior graphic design software.
New non-destructive effects for bitmap and vector objects
More control over your objects, layers and pages
Improved pixel workflow for pixel-perfect documents
New in the suite! Work on the go with CorelDRAW.app
Netop Vision 365  – new classroom management software for schools using Microsoft 365 Education. Designed for 1-to-1 classrooms, Vision 365 empowers teachers with easy-to-use benefits:
Engage students with dynamic screen sharing
Supervise student computer use, monitoring progress and activity
Redirect attention and eliminate distractions by blanking screens
Block distracting websites keeping students safe
MindManager 12 for Mac – brings new elegance and efficiency to the way you organize your ideas, tackle your tasks and achieve your goals.
SmartRules™
Write rules that change topic data including icons, tags, properties, progress and priority markers, based on specific triggers
Objects & SmartShapes™
Enrich, clarify and expand map content with 12 new shapes including stars, arrows, brackets, customizable smart funnels and matrices
Match Width
Visually align topics of uneven widths
Theme Designs
40+ beautiful new map themes, applicable with a single click
Dark Mode Support
Enjoy a MindManager experience seamlessly adapted to Mojave Dark Mode
Touch Bar support
Step away from the mouse and enjoy MindManager at your fingertips.
Retrospect Backup v16 – focused on better tools for monitoring and managing your backups. Retrospect 16 for Windows and Mac is a paid upgrade for prior versions of Retrospect. Customers with a valid ASM contract should visit the Upgrade Wizard to receive their free fulfillment license.
Retrospect Management Console
With our new hosted service, customers can monitor and manage their entire Retrospect infrastructure from a single pane of glass, at their desktop or on their phone.
Storage Groups
Protect an entire backup environment up to 16x faster with a single, centralized destination that Retrospect can use simultaneously. With Storage Groups, customers can run parallel backups to the same disk or cloud destination, reducing the backup window.
Deployment Tools
Managed service providers (MSPs) and IT administrators now have better tools to deploy and update their Retrospect clients automatically with built-in auto-updates and third-party workflow integration, freeing up valuable management time for other activities.
Condusiv Undelete® 11 – dramatically enhances the capabilities of our industry-leading Undelete series of data protection and recovery software. New functionality in Undelete 11 makes file recovery easier, faster, provides version protection for custom file types as well as cloud support.
New User Interface
Easy to use, simple to navigate and intuitive – Familiar File Explorer-like interface makes finding and recovering deleted files even easier.
New Expanded File Version Protection
File versioning has been expanded to include custom file types in addition to Microsoft Office files such as CAD, Photoshop files, PDFs and more.
New Enhanced Search Features
Easy to search for deleted files by multiple criteria. One button search wizard. New capabilities include options to search by a date range, deleted by a particular person or from a specific folder.
New Faster Search and Recovery
Speed of search and recovery has been improved.
New Cloud Support
The Recovery Bin can now be stored in the cloud using OneDrive and other popular file hosting services.
New Inclusion List
Provides the ability to customize only specific deleted files, folders or file types to be saved by Undelete.
New Drag and Drop
Users can drag and drop files from their local Recovery Bin to a local drive.
New Windows Desktops Themes
Your favourite Desktop Theme is now supported in Undelete Professional edition.
Microsoft HoloLens 2 – offers the most comfortable and immersive mixed reality experience available, with industry-leading solutions that deliver value in minutes – all enhanced by the reliability, security, and scalability of cloud and AI services from Microsoft.
Immersive
See more holograms at once through the greatly increased field of view. Read text and see intricate details on 3D images more easily and comfortably with industry-leading resolution.
Ergonomic
Wear HoloLens 2 longer and more comfortably with a dial-in fit system designed for extended use. And keep your glasses on—the headset slides right over them. When it's time to switch tasks, flip the visor up to step out of mixed reality.
Instinctual
Touch, grasp, and move holograms in ways that feel natural—they respond a lot like real objects. Log in to HoloLens 2 instantly and securely using just your eyes with Windows Hello. And voice commands work even in noisy industrial environments through smart microphones and natural language speech processing.
Untethered
Move freely, with no wires or external packs to get in your way. The HoloLens 2 headset is a self-contained computer with Wi-Fi connectivity, which means that everything you need goes with you while you work.
Microsoft 365 Monthly Update – There are more updates to Microsoft Teams, a very cool new Power BI visual, new capabilities in Microsoft To-Do and more
Avid 30 Series – The Stylish 30 series is a proven design specifically developed with the rigours of the school environment and sound quality in mind. Already used by thousands of students, this lightweight headset is equipped with a noise – cancelling microphone, making it ideal for the classroom and easy to use, store and clean.
AE-35
An affordable 3.5mm TRRS headphone within the 30 series. Great for school, home, libraries and more
AE-36
The great solution for testing by allowing students to record their answer in a clear and quiet manner. Available in three colours, The AE-36 is a perfect choice for 3.5mm TRRS inputs.
AE-39
Similar Features as the AE-36 model but is equipped with a USB 2.0 plug for plugging directly into a computer USB port.
AE-55
Available in orange or blue and has a 3.5mm TRRS or USB 2.0 plug, the AE-55 offers such standard features as a 270′ rotating noise cancelling microphone, adjustable ambidextrous design, chew resistant cord and much more! The AE-55 raises the bar with testing versatility, comfort, quality and value.