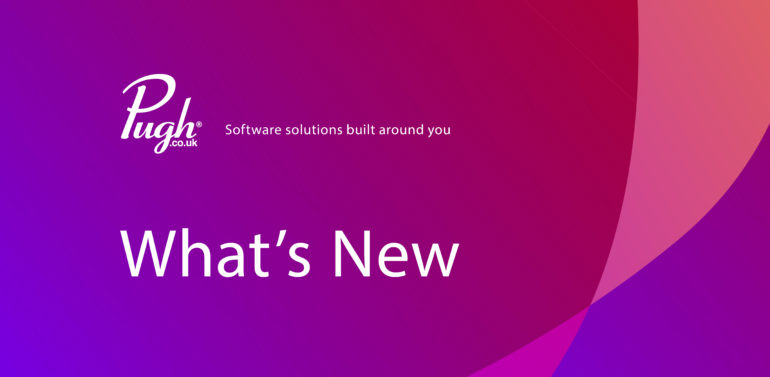 What's New – March '18
Last updated: 22nd March 2018
Don't miss out on March's 'What's New' with new products from NVivo, Sophos, Steinberg, Retrospect and Veeam
QSR NVivo 12 – offers faster, more intuitive analysis of data, more customization and user control than ever before. Including enhanced mixed methods analysis with new features, such as crosstab functions and seamless data exchange with SPSS. NVivo 12 also lets you import data from virtually any source, allowing you to gain richer insights across diverse volumes of data
Better support for mixed methods
Quickly exchange data with SPSS
Easier, redesigned Windows navigation
Customize your view for quick access
Sophos Intercept X – Intercept X combines deep learning with best-in-class anti-exploit technology, CyptoGuard anti-ransomware, root cause analysis, and more to form the industry's most comprehensive endpoint protection. This unique combination of features allows Intercept X to stop the widest range of endpoint threats
NEW enhanced exploit prevention techniques
NEW Active Adversary Mitigations
NEW registry protections
ENHANCED Application Lockdown
Steinberg Cubase 9.5 – The latest Cubase update significantly enhances the workflow, the quality and the creative tool set of your favourite digital audio workstation, with amazing new features and sharp improvements.
Zoning 2.0: Speed up your workflow
Automation editing just got curves
More inserts now with flexible pre/post fader
HALion Sonic SE 3 feat. FLUX wavetable synth
Retrospect 15 for Windows and Mac – the best way to keep all of your devices protected. With email protection, BackupBot AI, remote backup, and data hooks, customers can easily protect their digital content from data loss, theft, accidents, and disaster
Email protection – Protect Gmail, Hotmail, AOL, Yahoo, and many others, or migrate from one to another with a couple clicks
BackupBot – combines artificial intelligence and personalized data protection analytics to embed more intelligence in Retrospect's data protection strategies
Remote Backup – Remote backup with Retrospect enables organizations to protect both employees in the office and remote employees across the world
Data hooks – extensible dashboard plugins to summarize every important aspect of what Retrospect is doing, from storage to ongoing activities to overall protection
Web Console – the next step for the Retrospect interface, with the console running as a web application and the engine as a background service. A preview release for Windows and Mac will be available in May 2018
Retrospect Solo – the newest addition to our data protection suite. Retrospect Solo provides personal data protection to one computer and its external hard drives, with support for data backup and migration, email protection and migration, cloud backup, and BackupBot AI
Retrospect Virtual 2018 – built for larger VMware and Hyper-V environments with Management Console replication and redirection as well as Linux guest support.
Management Console Replication – The Management Console now supports replication to a different Management Console instance
Management Console Redirection – Retrospect Virtual supports Management Console redirection for better protection for larger environments through partitioning
Linux Virtual Server Support – Retrospect Virtual extends data protection to Linux guest virtual machines
Veeam Availability Orchestrator – a product that reduces the time, cost and effort associated with planning for and recovering from disaster. Through the orchestration of Veeam Availability Suite™ or Veeam Backup & Replication™, it's never been easier to ensure the continuous delivery of production IT services and compliance with industry regulations
Satisfy compliance requirements – with automated documentation that makes it easy to build and update the DR plan as the environment changes
Prove recoverability while reducing costs – through automated DR plan testing and readiness checks that avoid expensive manual processes with zero impact on production systems
Ensure IT service continuity and minimize service disruption – through orchestrated failover and failback of multi-site DR plans for planned migrations, disaster avoidance and disaster recovery
Sophos for Virtual Environment – replaces Sophos Antivirus for vShield, designed to efficiently secure virtual environments running on either VMware ESXi or Microsoft Hyper-V. It eliminates scan storms and update storms by offloading malware detection to a centralized security virtual machine
Retirement (End-of-Life): The last day for customers to receive service and support for the product from Sophos is scheduled for March 31, 2018. Critical software fixes, protection updates, and support will be available for the Sophos components of the SAV for vShield offering until this date
Provides off-board malware scanning – Like Sophos Antivirus for vShield, Sophos for Virtual Environments off-boards to a centralized Sophos Security VM, which you can download and set up, with no additional license needed
Now scans memory of VMs for malware – On-demand you may scan the memory for lurking and sophisticated memory-based malware
Choice for Management – Sophos for Virtual Environments can be managed via Sophos Central or the Sophos for Enterprise Console. Also integrated into Windows Security Center
Support for many hypervisor environments – Sophos for Virtual Environments supports VMware ESXi, either with or without NSX, as well as Microsoft Hyper-V
Sophos Phish Threat 2.0 – educates and tests your end users through automated attack simulations, quality security awareness training, and actionable reporting metrics. With 62% of organizations still failing to test user awareness, Sophos Phish Threat 2.0 is packed with new features to help you take advantage of this opportunity, including:
Comprehensive reporting enabling your customers to measure and report on risk levels with live 'Awareness Factor' data
Datacenter storage in Ireland and Germany, so Sophos Central customers already using these datacenters for their endpoint protection can add Phish Threat
Baseline testing, enabling customers to discover their overall susceptibility to attacks and identify phishing-susceptible users
Active Directory sync, making it quicker and easier to get started with a trial or new deployment
Eight new languages (German, French, Italian, Spanish, Portuguese, Korean, Japanese, and Traditional Chinese), dramatically increasing your available market
[magazine]