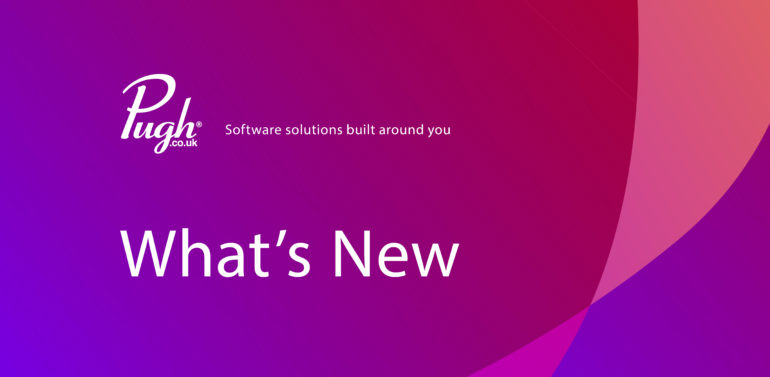 What's New – February '18
Last updated: 15th February 2018
Don't miss out on February's 'What's New' with major updates from Microsoft as well as a range of new products from Sophos, Corel, Andrea, Veeam, CyberLink, Impero and NVivo.
Sophos Phish Threat 2.0 – educates and tests your end users through automated attack simulations, quality security awareness training, and actionable reporting metrics. With 62% of organizations still failing to test user awareness, Sophos Phish Threat 2.0 is packed with new features to help you take advantage of this opportunity, including:
Comprehensive reporting enabling you to measure and report on risk levels with live 'Awareness Factor' data
Datacenter storage in Ireland and Germany, so Sophos Central customers already using these datacenters for their endpoint protection can add Phish Threat
Baseline testing, enabling customers to discover their overall susceptibility to attacks and identify phishing-susceptible users
Active Directory sync, making it quicker and easier to get started with a trial or new deployment
Eight new languages (German, French, Italian, Spanish, Portuguese, Korean, Japanese, and Traditional Chinese), dramatically increasing your available market
Corel VideoStudio Ultimate 2018 – Video and Movie Editing Software. Takes its award winning platform and adds Split Screen video, elegant titling tools, and new quick-edit controls. Tap into 2,000+ fun and sophisticated effects, play with speed, edit 360 videos, and tell your story from multiple angles. For your best movies, and the best value, VideoStudio Ultimate is the only choice
NEW workspaces and simplified UI
NEW Split Screen Video and Template Creator
NEW 3D Title Editor
NEW Premium Effects
Microsoft Updates
OneDrive for Business File Hover Card – a new Office 365 feature. With File Hover Card, as soon as you hover your mouse over a file you will be able to see file details such as access stats like number of views, who viewed, and who modified. Owners of files stored in OneDrive for Business will also be able to view this information
Microsoft Forms – part of Office 365 that allows your users to quickly and easily create custom quizzes, surveys, questionnaires, registrations and more. When you create a quiz or form, you can invite others to respond to it using any web browser, even on mobile devices. As results are submitted, you can use built-in analytics to evaluate responses. Form data, such as quiz results, can be easily exported to Excel for additional analysis or grading
Office 365 App Launcher – personalized and simple way to help your users open and switch between the apps they use most. A user's main view will include a default set of apps. Any additional apps which have been opened in the last few weeks will also be pinned. After the first time your users see the new launcher, apps in the main view will stay the same, unless a user chooses to customize their apps or an administrator adds or removes licenses
Whiteboard – a freeform digital canvas where people, ideas, and content can come together for creative collaboration. This new tool is built for anyone who engages in creative, freeform thinking. It's designed for teams that ideate, iterate, and work together both in-person and remotely. See where everyone is on the board and the updates they're making, whether they're adding images, putting up sticky notes, or creating diagrams
PowerPoint – PowerPoint presentation now allows you to turn your presentation into videos. Easily export and share your videos in 4K Ultra-High definition, so your presentations will look fantastic on any monitor, no matter what size
Yammer – insights for public groups can be accessed by anyone in your network by navigating to the View Group Insights link under Group Actions from the group's news feed. These insights enable you to track your engagement with content from campaigns or initiatives hosted in Yammer. It clearly identifies spikes in activity over the course of the year, month, or week so that you can report back to leaders and optimize efforts
OneDrive – Microsoft recently introduced a new, secure, external file sharing experience. Now, when sending secure links to outside recipients, they're sent an email message with a time-limited, single-use verification code when they open the link. By entering the verification code, the user proves ownership of the email account to which the secure link was sent
CorelCAD 2018 – Enhance your visual communication expertise with the precision of superior 2D drafting and 3D design tools available in CorelCAD™ 2018. It's the smart, affordable solution for drawing the detailed elements required in technical design
Professional 2D drafting and 3D design tools
Industry-standard file compatibility with .DWG, .STL, .PDF and .CDR*
Efficient project collaboration and sharing
Optional automation and customization
Andrea BT-875 Wireless Bluetooth® Stereo Headphones – wireless Bluetooth headphones that you could use to listen to your music with or without your phone! With a built in boomless microphone, making calls is easier then ever! Easily switch between your music and phone calls with the push of a button
40mm stereo speakers delivers clear, full-bodied sound
Pair with any Bluetooth-capable device to listen to music wirelessly
Plays music with compatible MicroSD card
Adjustable headband ensures a secure and comfortable fit
Veeam Availability Suite 9.5 Upgrade 3 – combines the industry-leading backup, restore and replication capabilities of Veeam Backup & Replication with the advanced monitoring, reporting and capacity planning functionality of Veeam ONE to deliver availability for ALL workloads — virtual, physical, cloud — from a single management console
Simplified backup management for virtual, physical and cloud based workloads
Reduce the impact on your production environment with new storage integrations for IBM and Lenovo
Mitigate risk with new data management analytics and compliance reporting
CyberLink Director Suite 6 – total solution for media creation. It includes four award-winning applications – PowerDirector 16, ColourDirector 6, AudioDirector 8 and PhotoDirector 9, offering the most complete, video and photo editing solution for advanced enthusiasts
PowerDirector 16 – Powerful Video Editing. A unique combination of high-end performance and consumer level usability
NEW Professional 360º Video Editing
NEW Video Collage Designer
NEW Intelligent Colour Correction
PhotoDirector 9 – Creative Photo Editing. Ticks all the boxes for photography enthusiasts to create stunning, professional results
NEW Total 360º Photo Editing
NEW Photos with Motion
NEW Sharper Images. Better Clarity.
AudioDirector 8 – End-to-End Sound Studio. Cutting-edge tools that make editing and fixing audio tracks fast and simple, because great audio is half of the movie experience
NEW Ambience Creator
NEW Auto-duration Adjustment
NEW Plosive Removal
ColourDirector 6 – Simplified Colour Grading. Brings advanced colour grading features and functionality used by professional movie makers to all video enthusiasts
NEW 360º Video Editing & Preview
NEW One-click Tone Adjustment
NEW Automatic Noise Reduction
Impero Education Pro – seamless and innovative blend of online safety, network admin and classroom management software that's simple to install and easy to use
Auto update of Managed Keyword Policies
Introduction of new browser based 'Enterprise Console' for managing multiple Impero services
New sexual assault keyword library created in partnership with SafeBae
'illegal content – CTIRU' keyword library focusing on terrorist content
QSR NVivo 12 – software that supports qualitative and mixed methods research. Making powerful research made easier, NVivo 12 brings new mixed methods support, easier to use and a new redesigned experience. (Coming soon in late March)
>>>To visit November's 'What's New' click here
Pugh Catalogue

Winter December 2017
30th November 2017

Autumn 2016 Catalogue
1st October 2016