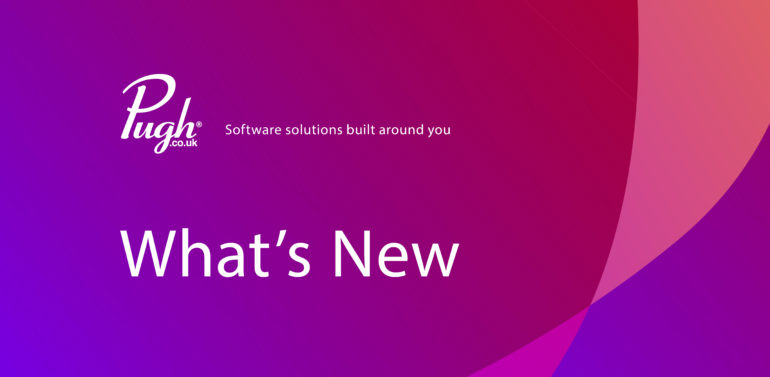 What's New – June '18
Last updated: 21st June 2018
This month What's New includes some new and exciting products from Techsmith, Corel, Articulate, Veeam, Acronis, Condusiv, FileMaker, Steinberg and Toon Boom.
TechSmith Camtasia 2018 – new major release of Camtasia available in English, German, and Japanese. Camtasia 2018 includes several exclusive new features that will appeal to both current Camtasia customers and new Camtasia prospects
Brand new assets – Camtasia 2018 comes with a collection of brand new video assets, including customizable intros, outros, and lower thirds. Instantly access them from the library.
Theming – Create multiple themes to keep your various company or personal styles organized and ready to use. Easily create, save, and apply themes with custom color and font preferences.
Performance improvements – The Camtasia editor has been refined to provide a smoother experience all around. Now, you can get up to 50% faster rendering times – even on your most complex projects
CorelDRAW Technical Suite 2018 – The versatile technical authoring tools within the suite, allow users to create detailed technical illustrations, such as assembly instructions, complex user manuals and multi-faceted documentation. Users can achieve unsurpassed productivity with new, high-calibre features to accelerate efficiency, and get full support for technical standards to publish, share or print.
Graphically rich and technically accurate – Benefit from versatile design tools that let you originate technically detailed and impactful designs with exacting specifications, including isometric drawing, detailed callouts and precise dimensioning capabilities.
Multi-use assets – Make the most of content and important data by repurposing it from existing sources, including 3D designs with the integrated XVL Studio Corel Edition, and the optional XVL Studio 3D CAD Corel Edition add-on for advanced 3D CAD assembly format support
Industry-leading file compatibility – Leverage real power with full support for a variety of content exchange types including the latest .DWG CAD file format version, and over 100 other data file formats to publish, share and output important technical documents. Using a diverse set of cross-media publishing and distribution capabilities, including CGM, WebCGM, SVG and PDF, you will ensure all important technical files will be delivered in a readable format.
Advanced standards compliance – Disseminate technical designs and documentation with ease using enhanced support for technical publication standards.
Articulate 360 – Articulate have recently released over 15 new features and assets to help you create gorgeous, engaging e-learning more easily than ever.
New modern player in Storyline 360 gives learners a beautiful and consistent experience across all the devices they use. Created more block types and controls in Rise to help you fine-tune your content and create branching scenarios. And there are even more gorgeous new assets to choose from in Content Library.
Storyline
NEW Modern player – Give desktop and mobile learners the same beautiful experience across all devices with the new modern player. Controls melt into the background, making the best use of screen real estate. Create a custom feel by selecting the dark or light player theme, choosing an accent color, adjusting the font, and more
Rise
NEW Search course content – Let learners search a course for specific keywords, then jump directly to relevant course content
NEW Export to PDF – Easily print content and meet regulatory requirements by exporting courses as PDF files
NEW Course translation – Localize courses into other languages by exporting text to an XLIFF file, translating it, and importing it back into Rise
NEW Disable forward seeking – Control how learners interact with videos by making sure they don't skip ahead
NEW Hide lesson numbers – Turn off lesson numbers when you don't need a lesson count, or want to create branched scenarios
Content Library
Isabel – Isabel is the perfect choice to walk learners through health- and science-related content
Vicki – Choose Vicki when you need a cheerful guide for your customer service training
Antonio – With his stylish appearance and international appeal, Antonio is the perfect host for a variety of courses
Bradley – Clipboard in hand, Bradley's ready for all your medical-themed courses
NEW Veeam Backup for Microsoft Office 365 1.5 – enables organizations to eliminate the risk of losing access to Office 365 email data and ensure Availability for your users. Whether you have completely migrated to Office 365, have a hybrid Exchange and Office 365 deployment, or offer Office 365 backup services, your business objectives remain the same. You must remain in control of your data, and you need Office 365 backup and recovery at your fingertips.
Take control of your organization's Office 365 data
Reduce the time and effort needed to find and restore email data
Protect against data loss scenarios that are not covered by Microsoft
Facilitate the migration of email data between Office 365 and on-premises Exchange
NEW Veeam Availability Console for Service Providers – makes it easier than ever to provide a managed backup service and build (or add) a Backup as a Service (BaaS) or Disaster Recovery as a Service (DRaaS) revenue. Comes packed with all the features and technology needed to launch and run a successful managed service provider (MSP) business that ensures the Hyper-Availability of your customers' data.
Grow your business with greater scalability support for remotely managed virtual, physical and cloud-based workloads
Achieve greater insights into your customer environments with monitoring support for Veeam Agents managed by Veeam Backup & Replication™ — including Veeam Agent for Linux
Increase security with the addition of new operator roles delegating access of monitoring and management of specific customer data, policies and workloads
Simplify monitoring and management through native ConnectWise Manage integration
Acronis True Image 2018 –  Never lose another file with the #1 personal back-up software. Make sure you always have dependable copies of your data so you can restore your entire system or individual files.
Backup – Use cloning and mirror imaging to make a duplicate of your system, capturing all of your data for disk migration or system recovery
Store – Back up to a local drive and to the cloud for the Dual Protection of always having on-site and off-site copies available
Restore – Quickly recover your whole system or a specific file with confidence, knowing that the backup is as good as the original
Acronis Storage 2.4 – A universal, cost-efficient, easy-to-use, and scalable software-defined storage solution that combines block, file, and object workloads and uses industry-standard hardware.
Universal – Unites file, block, and object-based storage in a single, software-defined, scale-out storage solution to cover all use cases and scenarios. Optimized to work with Acronis Data Cloud suite of products.
Safe – Manages overhead and solves data integrity with Acronis CloudRAID. Encrypts data at rest using AES-256-bit encryption. Incorporates Acronis Notary with blockchain to ensure data authenticity.
Fast and Efficient – Up to five times faster than the Ceph and other SDS products. Scales from terabytes to tens of petabytes. Includes SSD caching, automatic load balancing, and parallel replication for fast performance.
Efficient – Provides smart automation, rapid GUI management, and support for industry-standard hardware. Optimized to work with other Acronis products. Highly optimized for low memory and CPU usage.
Proven – Uses Acronis' storage technology, which has been in production at 14 Acronis' Data Centers worldwide for more than 6 years. Stores more than 100+ PB of data, backed up from more than 125,000 servers, PCs, and mobile devices.
Condusiv V-locity 7 – I/O reduction software that guarantees to solve the toughest application performance problems on I/O intensive systems like MS-SQ. V-locity eliminates the two big I/O inefficiencies in virtual environments that generate a minimum of 30-40% of I/O traffic that is nothing but mere noise dampening performance and unnecessarily chewing up precious storage IOPS
Guarantees to solve the toughest application performance problems
Latency and throughput dramatically improved
True "Set It and Forget It" management
Compatible with all SAN/NAS and hyperconverged systems
Deploys to hundreds or thousands of servers with just a few clicks – no reboot required
"Time saved" reporting dashboard to validate benefits
Enterprise-wide visibility into I/O performance health from the operating system to storage
Condusiv Diskeeper 18 – with DRAM caching guarantees to fix worst performing physical servers or PCs with faster than new performance. Instead of "defragging," Diskeeper 18's patented engine ensures large, clean contiguous writes from Windows in real-time so fragmentation is no longer an issue for HDDs or SSDs. This eliminates the "death by a thousand cuts" scenario of small, tiny writes and reads that rob SSD and HDD performance
Keep physical servers and Windows PCs running faster than new
Delivers accelerated I/O performance for Windows systems
Improves business productivity by ensuring applications run at peak performance
Proactively eliminates performance-robbing fragmentation
Easily deploys across the network with a central management console – no reboot required
FileMaker Platform 17 – Are your business processes and data out of control? Are you having a hard time finding the right solution that does exactly what your team needs for the right price? Choose the FileMaker Platform to quickly create custom apps that work the way you do.
Development – Apps with a snap – Choose one of the new Starter apps and connect an Add-on Table for additional functionality. Now you can more easily create the app that perfectly meets your team's needs
Mobility – Sensory Perception – Sensor support: Whether you're rappelling down caves, riding roller coasters, or doing other types of field research, automatically collect data on iPad and iPhone with the new sensor support feature
Administrator – Intelligent handling – The all-new FileMaker Server Admin Console has been redesigned to be more lightweight and provide a streamlined user interface for easier administration of your custom apps
Steinberg Dorico Pro 2 – a big step into the future, with powerful new features for composing to video, MIDI automation, smart staff management tools, rhythm slashes, repeat bars, and other improvements for producing scores, parts and mock-ups for film, TV, games, jazz, and other commercial music.
Toon Boom Storyboard Pro 6 – new and enhanced drawing tools that feel natural, give you an enviable level of control and are combined with everything else you need for storyboarding and animatics creation — all on a rotating canvas that never gets in the way of your creativity.
Textured Vector Brushes – The bitmap engine that drives these superior quality brushes has been redesigned to enhance quality and complement the flexibility of Toon Boom vector technology
Centreline Editor – effortlessly reshape brush strokes on the go. Reusing the same artwork for different poses with a few small adjustments speeds up the entire drawing process
New Video Tracks an Movie Support – Develop storyboards and output animatics that tell the whole story, without using other software
Stamp Tool – makes it so much easier to create natural-looking patterned effects or reuse your cycles in different scenes
3D Models for 2D Scenes – import a 3D model, position it, take a snapshot and add it to a layer in your scene
[magazine]