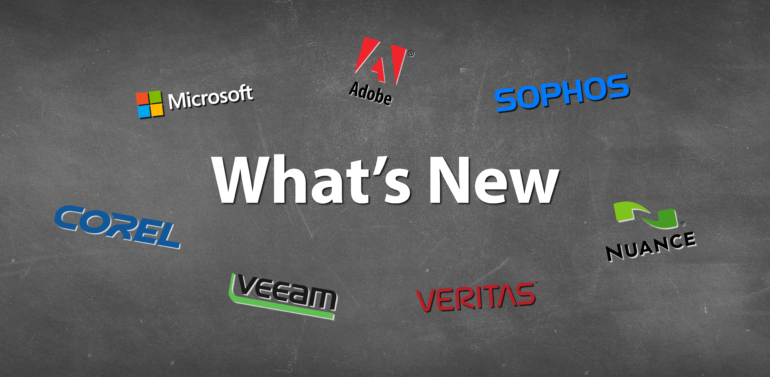 What's New – July 2019
Last updated: 28th June 2019
Don't miss out on July's What's New which includes major release from Sophos with the all-new Sophos Cloud Optix, CorelDRAW Technical Suite 2019, Carbonite Endpoint 360 and Backup for Office 365. We also have Microsoft Monthly Update which introduces new tools to help compliance, boost productivity, and features to foster secure, collaborative user experiences.
Sophos Cloud Optix – Combine the power of AI and automation to simplify cloud security Sophos Cloud Optix agentless, SaaS-based service combines deep security expertise with the power of Artificial Intelligence. Delivering cloud security monitoring, analytics, and compliance automation with one simple-to-use interface in a process-efficient way.
See Everything. Secure Everything: – Automatic discovery of your organization's assets across Amazon Web Services (AWS), Microsoft Azure and Google Cloud Platform (GCP) environments. Giving your team the power to respond to and remediate security risks in minutes, with complete network topology visualization and continuous asset monitoring
Proactive Cloud Compliance: – Raise standards without adding headcount by automatically detecting changes to your cloud environments
AI-powered Security Analytics and Monitoring: Powerful artificial intelligence detects suspicious network behavior and risky login activity fast – with smart alerts and optional automatic remediation of risks
CorelDRAW® Technical Suite 2019 – This versatile technical authoring suite, allows users to create precise technical illustrations, like assembly instructions, complex schematics and user manuals. Users will be able to select from powerful, dedicated illustration and design tools that ensure accuracy for axonometric drawings, detailed callouts, advanced dimensioning, and more. This latest release also offers greater efficiency thanks to refined performance and stability
An all-in-one suite for visual technical communication: Create everything from precise technical illustrations, like assembly instructions and complex schematics. It's suitable for a broad range of needs from technical illustrators, to drafters, writers and graphics users.
Suitable to repurpose key assets: With 3D visualization efficiencies, users can insert 3D models as linked or embedded objects into Corel DESIGNER files for instant access, sharing and reference. CorelDRAW Technical Suite comes with the integrated XVL Studio Corel Edition, and the optional XVL Studio 3D CAD Corel Edition add-on for advanced 3D CAD assembly formats.
Unmatched file format compatibility: Users can enjoy support for the latest file formats widely used in technical publications, including CGM, WebCGM, SVG and PDF. Import from, and export to, more than 100 file formats, including EPS, DWG, TIFF, PNG, and JPEG.
Microsoft June update – This month, Microsoft announce updates to Microsoft Cloud App Security and Azure AD Conditional Access that help you improve your organization's security posture, updates to Microsoft Teams and Yammer that help you meet compliance obligations, updates to PowerPoint Designer that help you build visually impactful presentations, and updates to Outlook that help keep you in your workflow
0:37 Shadow IT

1:15 Identity Secure Score

1:53 Azure AD Conditional Access policies

2:44 Information barriers in Microsoft Teams

3:05 Yammer compliance requirements

3:31 Multi-geo capabilities

3:55 Recommended documents in Office

4:22 Recent files in Outlook for iOS

4:50 Inking in Outlook

5:30 Company-branded templates in PowerPoint Designer

7:01 Thumbs-up in Microsoft Whiteboard

7:13 Azure AD password length change
Microsoft May Update  – This month, Microsoft are introducing new tools to help simplify compliance, app updates to boost productivity, and features to foster secure, collaborative user experiences.
Updates from Microsoft Build to help develop people-centered experiences with Microsoft 365
App updates to help people do their best work
Streamline records management and access control
Carbonite Endpoint 360 – a comprehensive, automatic backup solution for all your endpoint devices and the data that resides on them, including data in Microsoft Office 365. This advanced solution protects against accidental deletions, human error, ransomware and other threats. Highlights of this offering include:
Automated backup of all endpoint data, including the Office 365 suite
Advanced administrative control, including legal hold, audit reporting, role-based access and more
Flexible recovery options – incremental restore of endpoint data and granular restore of Office 365 content
Secure protection features, like global location tracking, remote data wipe, poison pill and private key
Carbonite Backup for Office 365 – new edition to the portfolio you can provide unlimited, automated backup for Microsoft Office 365 in SharePoint Online, Exchange Online, Project Online, OneDrive for Business, Groups, Teams, Planner and Public Folders.
Comprehensive protection for the entire Microsoft Office 365 suite

Restore granular data, including mailboxes, conversations, projects  and more

Perform site-level  rollback to easily restore Office 365 data

Create granular policies for what should be protected

Run backups up to four times per day, with flexible retention options
Netop Remote Control v12.77 – designed to take advantage of improvements provided by the new Connection Manager. When used together, the improvements include:
Increased stability: fewer disconnects and improved connectivity between Guest & Host modules when using the Netop Portal as a communication profile.
Enhanced security: the Guest interface will only show Hosts that the current user is authorized to access when using the Netop Portal as the Guest Access Method.
Improved user experience: identifying Hosts from the Guest interface will be easier with better filtering options and infinite scrolling.