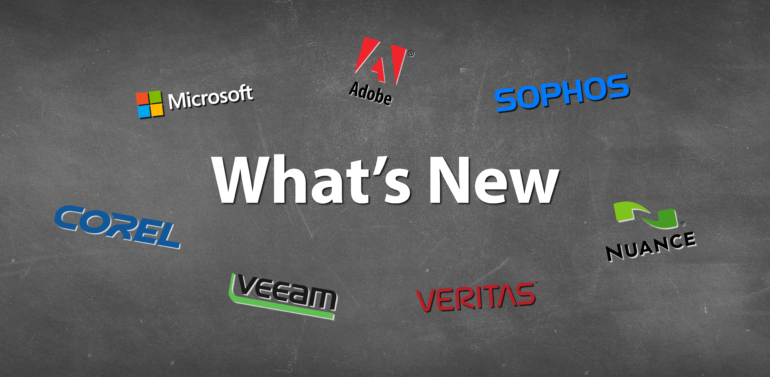 What's New – April 2019
Last updated: 24th April 2019
April What's New features the Padcaster Verse which is now available in the UK, New security software from Kaspersky, Acronis, GFI Software and Veeam. Microsoft have introduced the new Surface Hub 2S and there is also the monthly update with range of new updates. 
Padcaster® Verse™ – is an elegantly simple, completely modular solution that turns any smartphone into a professional-grade mobile production studio. Move quickly from shot to shot, livestream from the field, or create amazing content whenever and wherever inspiration hits. (Now Available in UK)
Rugged frame ensures your iPhone, Android or small tablet stays safe
Combo mini-tripod, grip & charger steadies every shot and keeps the cameras rolling
Mini-mic cuts through the noise
Flexible G-POD wraps around anything so you can get any shot
13 on-frame threads secure lights and other accessories
Seamless integration with pro-filmmaking and livestreaming apps
Kaspersky Endpoint Security Cloud – caters to the brave new cloud reality, with a future-ready solution that's easy to manage and hard to hack. Everything has changed – not least the range of threats – and no security expert can now operate without a solid, proven cloud-native security solution.
Protect any device
– Windows and Mac workstations
– Windows file servers
– iOS and Android smartphones and tablets
Break free from the on-premise burden
– Hosted solution
– Managed from a web browser
– Always available at cloud.kaspersky.com
Upgrade on demand
– Two pricing tiers to choose from
– Scale as you grow
Enjoy the benefits of the cloud
– Faster time to protection
– No capital investment
– No 'patching Fridays'
– Redeployed resources
– Pay as you grow
– Outsourcing friendly
Avid Classroom Pack – AVID's most popular headphone models are available in convenient Classroom Packs. Nicely stored in a hard case, the headphones – up to 30 depending on the model – are protected and organized, ready for classroom use. Classroom packs include a storage case with 12-30 headphone or headsets
Microsoft Surface Hub 2S – is an all-in-one digital whiteboard, meetings platform, and collaborative computing device that brings the power of Windows 10 to teamwork. Surface Hub 2S enables you to take team brainstorms to the next level with Microsoft Whiteboard, and run remote meetings seamlessly with Microsoft Teams or Skype for Business. Wherever teams go, Surface Hub 2S can go too
Make any place a teamwork space
Bring remote teams together
Move beyond meetings to true team flow
Microsoft Monthly Update – There are bunch of updates to Microsoft Teams, additions to Microsoft Whiteboard, the Forms Pro preview, new security and compliance features, and more.
Microsoft Teams
Microsoft Whiteboard
LinkedIn Connections
Mac 3D Embedded Animations
Outlook on web
Live Events in Microsoft 365
Microsoft 365 Security Centre
Acronis File Advanced 8.5 – is now available, delivering even greater file sync and share capabilities for your customers. In addition to numerous enhancements that simplify the UI, improve administration and strengthen security, the new release includes a powerful new feature: Mobile PDF editing (iOS version only). With mobile PDF editing, users get total control of their work so they can:
Create new documents from a subset of selected pages
Create, duplicate and delete PDF pages
Rotate and reorder PDF pages
Copy and paste text and graphics
Email selected pages of a PDF document directly from the Acronis Files Advanced mobile app
Dophin Software SuperNova 18 – is now available and excitingly, its 'best in class' multiple monitor support just got even better! You can now choose different levels of magnification and different colour settings for each of your monitors. Multitask across 3 screens, each running a different app, with different levels of magnification and various colour schemes. And to keep things simple and transparent, the SuperNova control panel names the monitor you are using so you always know where you are making your magnification and colour adjustments. Plus if you mix and match monitor resolution, you'll still get great results. Mix standard and touch screen monitors, from different manufacturers, any resolution. You can even add external monitors to tablets and laptops.
NEW: Independent magnification and colour setting per monitor settings
Updated Doc Reader – optimise reading comfort from any app
Updated 'Scan & Read' with higher accuracy, better PDF support and new view in Doc Reader and Word options
Updated 'Connect & View' with extra easier setup and new view in Doc Reader
New: Voice exceptions editor can correct mispronunciations easily or add common acronyms
New: Quicker set up for Enterprise SAM remote
Veeam Backup for Microsoft Office 365 v3 – eliminates the risk of losing access to Office 365 data, including Exchange Online, SharePoint Online and OneDrive for Business. It ensures that your customers can remain in complete control, and that their data is always protected and accessible.
Get up to 30x faster backup for SharePoint Online and OneDrive for Business
Improve security for Office 365 backup data with multi-factor authentication
Enhance visibility and analytics with Office 365 data protection reports
And much more!
Kerio Control 9.3 – this release comes with high availability and fail over production. To initiate high-availability, new and existing customers will need to acquire and install a second Kerio Control appliance or virtual machine. A single software license will cover the two pieces of hardware. Customers configure the second device as a clone of the active device. Configuration settings are easy-to-do and takes only minutes
New VPN encryption key with AES
+40% VPN speed improvement
Improved IPS throughput
GFI FaxMaker v20.1 – the new version 20.1 comes with extended support for Microsoft Windows Server 2019, Microsoft Exchange 2019 and more.
Support for Microsoft Windows Server 2019
Support for Microsoft Exchange 2019
Updated XCAPI to 3.6.77
Updated Dialogic to 6.11
New etherFax workflow for better resiliency in case of communication issues
Sophos XG Firewall v17.5 MR 4 (Security Update) – giving you the ability to create a custom password for configuration backups. This new ability provides an added measure of security that you can directly control. Previously the configuration backups were protected and obfuscated using a common password known only to Sophos. If you create backups of your configuration, we strongly advise you to upgrade to MR4 and apply a custom password. As a best security practice, Sophos advises administrators to handle their own additional security of these backups based on their unique environment