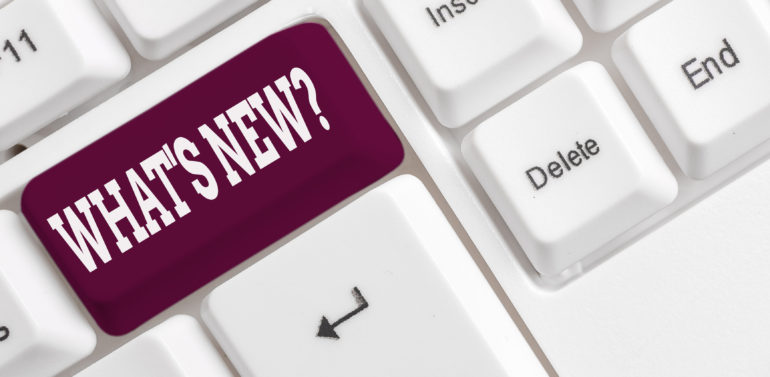 What's New – April 2021
Last updated: 29th April 2021
What's New in April brings major new product releases you don't want to miss out on. As we adapt to a new normal in the way we work, Jabra have released two new video conferencing products to their PanaCast range, PanaCast 50 and PanaCast 20. TechSmith have announced the brand new, feature-rich Camtasia 2021, Microsoft expands the Surface family with the new Surface Laptop 4. Also, check out the very latest blended learning products from Pugh, from best-in-class laptops to interactive displays to full meeting room solutions and more.
As we navigate the challenges of staying connected and productive, video conferencing has become more important than ever before. Everyone knows the value of a face-to-face chat, for both work conversations and personal catch-ups. It's time to experience the next generation of intelligent, seamless, high-quality video collaboration. With Jabra PanaCast 50 and PanaCast 20, Jabra reinventing meetings for the new normal.
Jabra PanaCast 50 – Engineered to be the first new-normal-ready intelligent video bar. With industry-leading professional audio, advanced and innovative 180° video technology, and a range of unique intelligence-driven features, PanaCast 50 makes sure that nobody in the meeting room is squeezed together, distorted or missing from the picture, putting inclusive meetings back on the table, safely.
Astounding sound from the world leaders in professional audio
Unique 180° field of view keeps everyone in the picture at a safe distance
Virtual Director intelligently adjusts the video in real-time for more immersive meetings
Safety Capacity and Room Usage Insights generate anonymous room occupancy data for all your meeting rooms at once
Network-connected system enables easy remote management
Real-time whiteboard streaming for more inclusive remote collaboration
Uniquely advanced system architecture powers a range of intelligent features
Plug-and-play for fast setup and maximum ease of use


Jabra PanaCast 20 – This premium personal video conferencing device utilizes the most cutting-edge technology to deliver an experience that's unlike any other on the market. Intelligent, powerful, and completely unique. PanaCast 20 puts you right in the picture from anywhere, with premium AI-powered 4K Ultra-HD video quality that automatically guarantees the perfect image every time. From Intelligent Zoom, to Intelligent Lighting Optimization, to intuitive Picture-in-Picture mode, PanaCast 20 is a personal camera that knows exactly what they need, when they need it.
AI-powered 4K Ultra-HD video
Intelligent Zoom
Intelligent Lighting Optimisation
Intuitive Picture-in-Picture mode
On-device processing & integrated privacy cover
Optimised for all leading UC platforms
Use with Jabra professional audio solutions
TechSmith Camtasia 2021 – TechSmith have announced the release of their brand-new, feature-rich Camtasia 2021 for Windows and Mac. Whether you're a teacher looking to record some quick tutorial clips and demos, or a media student looking to create and edit professional standard video projects, there's no better content creation tool than Camtasia 2021.
75+ new transitions and effects – Even more options for creating free-flowing videos bursting with creativity. Simply drag and drop the ones you want.
Enhanced audio features – Professional standard videos now have professional-standard audio, ensuring your videos sound as good as they look.
New ways to share custom assets – Proud of your creations? Think others would find them useful? Simply create it and share it with anybody you want.
Microsoft Surface Laptop 4 – Do it all with sleek design, speed, and exceptionally long battery life on Surface Laptop 4. Open effortlessly with one finger, get in the flow in seconds, and do your best work on the brilliant PixelSense™ touchscreen. Connect over the built-in HD camera and Studio Mics, and surround yourself with immersive Dolby Atmos® audio. Personalize with a choice of two great processors, two sizes and keyboard finishes, plus four rich colors, including new Ice Blue.
Slim, sleek design – Ultra-thin and light, two sizes, both with a smooth, invisible hinge you can open with one finger.
Serious multitasking power – Choice of 11th Gen Intel® Core™ or AMD Ryzen™ Microsoft Surface® Edition processor
Look and sound your best – Even in low light, with the high-definition camera. Be heard loud and clear with dual Studio Mics.​
Trusted security – Protect files and photos with integrated OneDrive cloud storage. Work securely across devices with Windows 104 and Microsoft 365.
Jabra Evolve2 30 – Engineered to keep you productive. Lightweight, portable, reliable, comfortable. It's time to get ahead with the new standard of professionalism. Evolve2 30 opens doors to enhanced comfort, seamless collaboration, and instant concentration anywhere from open office to open-plan living. Jabra Evolve2 30 is perfect if you need a portable, comfortable headset that delivers outstanding call quality and great noise isolation, with a durable design that's built to last.
Portable concentration anywhere. The Evolve2 30 cancels 48% more of the noise around you
Gentle, lightweight comfort for all-day productivity.
2 microphone technology filters 12% more background conversation noise for clear, collaborative calls 28mm speakers for outstanding audio.
Future-proof tech that gets better with age thanks to an advanced digital chipset.
Compatibility with all leading UC platforms with a Teams-certified variant also available.
FREE Jabra Speak 710 Offer – Jabra are currently running a special offer that includes a FREE Jabra Speak 710 when you purchase a Jabra PanaCast, so you can teach anywhere, anytime. Check out this quick video to see how Jabra set up a virtual classroom in 3 easy steps.
Blended Working & Learning Tools – Working from the office, in the classroom or at home? It doesn't matter when you have the right tools. Pugh's best-in-class laptops and tablets provide the portability you need without sacrificing on power. High-quality cameras, speakers, headsets and desk phones complete your setup, empowering you to focus and collaborate from anywhere, at any time, on any device. Call our blended working experts today for your tailored solution.