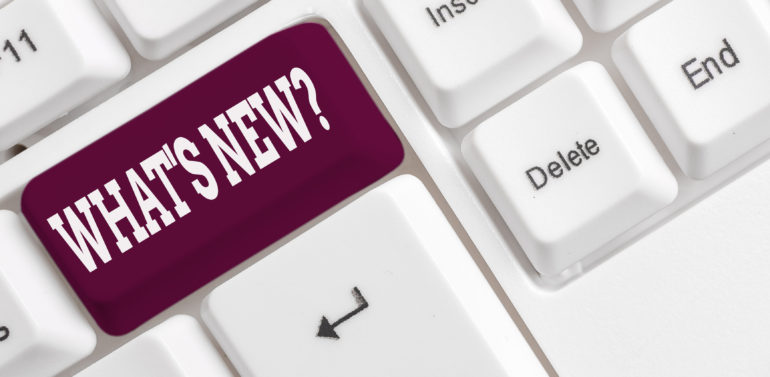 What's New – April 2020
Last updated: 28th April 2020
Author: Jamie Owen, Pugh Computers Ltd, Business Development Manager
As we continue to adapt to changes in our working environments, What's New in April will keep you up to date with all the latest software and hardware releases. Jabra have introduced their world leading Evolve 2 headset series, we have become partners with wireless display specialists ScreenBeam, Corel have taken video editing to the next level with VideoStudio 2020, and we have What's New from Microsoft, featuring the latest Teams updates.
This month's What's New also brings you the latest COVID-19 related offers from vendors including Steinberg, Microsoft, SMART, MindManager, Veritas and Adobe.
Jabra Evolve2 Range – Introducing Evolve2. Jabra have re-engineered every aspect of their world-leading Evolve Series to make it better in every single way. Featuring the best ever noise isolation, outstanding call performance, enhanced comfort and a full working week of battery. The Evolve2 models that are certified for Microsoft Teams support Microsoft Teams as a plug‐and‐play experience. This is so much more than an upgrade. Welcome to the new standard of professional headsets.
Jabra Evolve2 85 – Engineered to keep you focused. The best headset for concentration and collaboration. A wireless headset that offers better noise cancellation than ever before, 10-microphone technology for crystal-clear call and up to 37 hours battery life.
Jabra Evolve2 65 – Engineered to keep you agile. Work anywhere with superior wireless audio performance. Wireless headset with incredible noise isolation, 3-microphone call technology for outstanding call performance and up to 37 hours of battery life.
Jabra Evolve2 40 – Engineered to keep you on task. Exceptional audio, outstanding noise isolation, superior comfort. A wired headset with incredible noise isolation, 3-microphone call technology for outstanding call performance and busylight feature visibile from all angles.

ScreenBeam Partner – We are delighted to become ScreenBeam partners. ScreenBeam are a leading wireless display and collaboration provider, delivers an app-free screen sharing experience on any modern device to bring intuitive wireless collaboration into any meeting space or classroom. ScreenBeam's two Flagship products include:
ScreenBeam 1000 EDU – Designed for schools requiring a high performing 4K wireless display and collaboration solution. Combining local Wi-Fi mode connectivity with industry standard Miracast™, and network infrastructure connectivity or network bridge functionality, delivers unparalleled deployment options for teacher and student wireless presentations. With Classroom Commander.
ScreenBeam 1100 – Delivers universal device support via enterprise-grade Miracast, AirPlay and Google Cast to eliminate connectivity issues in corporate environments. Native screen sharing means never using an app, dongle or button again. Users get the ultimate secure wireless collaboration experience, including wireless Microsoft Office 365, touch display support, extended display, 4K video streaming, and digital signage.
Corel VideoStudio 2020 – VideoStudio takes ease of use and creativity one step further, with the addition of new smart movie tools, enhanced masking and color grading, and workflow improvements. Dive into new premium effects and edit 4K, HD, 360 video editing, with full the full suite of creative editing tools. Turn memories into movies with VideoStudio.
Easy and intuitive: Perfect for all skill levels; learn to create impressive videos quickly, transforming photos and videos into slideshows and movies. Users can play with speed or work smarter with new Highlight Reel.
Supports Popular formats: Optimized for the latest video acceleration hardware and popular formats, VideoStudio allows users to edit HD, 4K, and even 360 videos
Flexible and fun: Start with templates or edit on the Timeline and combine photos, videos, and audio on multiple tracks. Tap into fun features like Multi-camera edition, Motion Tracking, and more than 1,500 filters and effects.
Award winning: VideoStudio is widely recognized for being easy to use whilst packed with a full range of professional editing features
Perfect for all skill levels: From Beginner Video Editors, to Social Vloggers, Business Marketers, Video Editing Hobbyists and Educators & Students
Microsoft Monthly What's New – In this month's episode, Microsoft highlight the 3-year anniversary of Microsoft Teams and cover new features including improved audio quality in online meetings, Targeted Communications for firstline managers with the Shifts app, Teams and Skype consumer interoperability, and more.
0:49 Improved audio quality in Teams meetings
1:34 Kronos Workforce Central integration
2:31 Targeted Communications in the Shifts app
3:31 Teams and Skype interoperability
Microsoft What's New in EDU – As you settle into remote teaching and learning, Microsoft are devoting this episode of What's New in EDU to sharing free resources that can support you as you lead virtual lessons, foster collaboration and engagement, and focus on accessibility.
TechSmith Camtasia 2020 – The best all-in-one screen recorder and video editor for businesses, educators, and entrepreneurs to create video tutorials and other instructional videos. Camtasia allows people who are not video professionals to create engaging videos that instruct, educate, and explain, without excessive training.
Video templates: Achieve new levels of speed and consistency when creating videos with pre-built templates.
Quick access to Favorites: Keep all of your most frequently used tools, annotations, and effects in one place for quick access and faster editing.
Maintain consistency in creation: Package up standard templates, assets, and tools for sharing across computers, teams and organizations.
Enhanced capture: Simplified recorder allows for recording individual inputs, higher frame rates, and high-quality webcam recording.
MindManager for Mac 13 – MindManager® simplifies the way you process and manage information, by turning scattered ideas and data into clear visual maps that are easy to build, organize, evolve and share. Every day, millions of people in thousands of global organizations use MindManager to more effectively think, plan, communicate, collaborate and get things done across their most business-critical tasks.
NEW! Take total control over your project workflow with Gantt charts, project costing, and more
NEW! Keep your projects on track, identify bottlenecks, and see the status of tasks in Tag View
NEW! Capture content from anywhere and add it to your queue for later with MindManger Snap
NEW! Take your maps places your Mac can't go with MindManager Go for mobile
NEW! Extend your desktop with Sidecar, sync with iCloud, and do more with tools built for Mac
NEW! Make your diagrams richer and more engaging with image thumbnails
NEW! Better manage and make sense of complex maps with powerful sorting capabilities

Steinberg FREE 'Stay Home Elements Collection' – To help your students learn from home, Steinberg have released a new 'Stay Home Elements Collection' and it's available as a FREE download for 60-day use. With the variety of software included, it's a bundle which can cover a huge number of music applications, from music composition, recording, mixing, mastering, podcasting, scoring, sound design and much more! Bundle Includes:
Cubase Elements 10.5
Dorico Elements 3
Wavelab Elements 10
Absolute VST4 (which includes Halion 6, Halion Sonic 3, Groove Agent 5, Retrologue 2, Padshop Pro and many others)
Steinberg have also created a new EDU resources document which is made of some of Steinberg's best, most popular Tutorial videos, How To's, Masterclasses and Artist interviews, all in one place and all free to watch. The content ranges from beginner level to advanced, on Cubase, Dorico and VST instruments.

Microsoft Dynamics 365 and Power Apps FREE for 6-months
Mcrosoft Dynamics 365 and Microsoft Power Platform teams are working closely with organizations on the front lines of the crisis – including governments, healthcare providers, nonprofits, and schools and universities. Microsoft are also focusing efforts to ensure your business has the digital capabilities to maintain business continuity and stability, to the best ability possible, while keeping employees safe and healthy. There is an immediate need for cloud solutions to rapidly respond to quickly changing needs using custom apps and automated solutions, support remote workers, and engage customers in need.
To empower organisations, Microsoft are making Dynamics 365, Power Apps, Power Automate, Power Apps portals and Power Virtual Agents available for a free six-month product offer, that includes all premium capabilities for customers in the healthcare, education, nonprofit, and government sectors, if they need to be used to directly support a COVID-19 response process.

FREE access to SMART Learning Suite Online
We know you are hard at work navigating the shift from classroom to distance learning. SMART has created some tools to help. Click here to see resources, tutorials and scheduled webinars created by SMART educators to help you with distance learning.
Looking for software for at-home learning? The premium learning software, SMART Learning Suite Online is now complimentary to you for the rest of the school year and is a good tool for student-paced digital packets and live lesson delivery for at-home learning. Click here for full access to SMART Learning Suite Online at no cost.
SMART Learning Suite Online powers cloud-based classrooms enabling interactive lesson delivery, collaborative workspaces, game-based activities, formative assessments and more on devices anywhere, anytime.

FREE Co-Editing to MindManager 2020 for Windows
Over the past weeks, many of you have suddenly found yourself in a remote-working situation, without the routines, resources, active teamwork, and social connection of a shared physical workspace. MindManager 2020 for Windows users can now add a FREE Co-editing subscription to their account that will remain active through the end of this year.
Co-editing in MindManager 2020 for Windows allows users to collaborate on MindManager maps and diagrams together in real-time. Teams or groups of individuals working remotely can make changes to the map and see them as they happen. Co-editing operates on a secure cloud-based server that takes place in your browser, eliminates version conflicts, and allows licensed users to invite others that do not own MindManager.

Veritas Desktop and Laptop Option – FREE 90 day subscription
*NOW offering 90 day free desktop and laptop protection for unlimited users*
Veritas understand that rapidly shifting your workforce to remote working is challenging, it is therefore important to consider the risks. As your workforce move out of the office so does your data! Your remote workers can become an easy target for hacking attacks, malware and hardware malfunctioning. Veritas are here to help you make this transition quickly and safely.

Adobe Sign extended 90-day trial
Adobe understands that given the current COVID-19 situation, many businesses across the world, large and small, are finding themselves in difficult situations to assure business continuity. Adobe Sign electronic signatures are one of Adobe's many products that help enable digital processes and remote work, so they have extended the length of the Adobe Sign free trials to 90 days for prospective customers new to Adobe Sign. The 90-day evaluation period allows for extra time to fully experience all that Adobe Sign can do.