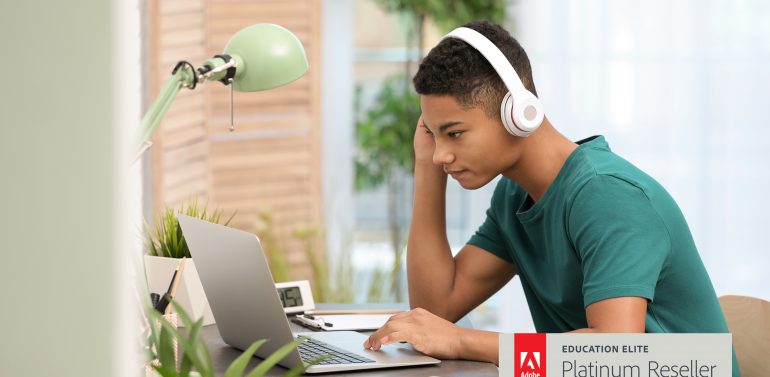 Pugh & Adobe: Bringing Education and Creativity Together as One
Last updated: 15th February 2021
Recently we co-hosted a webinar with Adobe in which we ran through the different licensing options, giving you an understanding of how they compare, their benefits and restrictions, and example scenarios where they can be best used. In this blog, we summarise all of this for you as well as providing a link to watch the webinar recording in full.
So, what are your options?
The two main options are Shared Device Licenses (SDLs) and Named User Licenses (NULs). There are also legacy Device Licenses (DLs) which we explain further.
SDLs are designed to license your lab or classroom computers, or any other on-premises computers that will be accessed by several different users. They give access to the latest Creative Cloud (CC) desktop apps, however mobile apps are not covered, access to services is very limited, and you cannot use SDLs in virtualised or remote access environments.
There are still some legacy DLs in use, however these are being replaced by SDLs and you should really be thinking of migrating to SDLs as soon as possible if you haven't already done so. Legacy DLs are similar to SDLs, however they only cover up to CC 2018 and the newest CC apps such as XD, Premiere Rush and Dimension are not available at all.
Meanwhile, NULs are designed to license specific users and provide access from anywhere, at any time, on any compatible device. As is the case with SDLs, they give access to the latest CC desktop apps, but unlike SDLs, they also cover mobile apps, full access to services, and you can use NULs in virtualised or remote access environments.
Should you license your users or your devices, or both?
This is one of the most common questions we get asked at Pugh. Schools, colleges and universities are always looking for the cheapest way to get licensed, while remaining compliant and providing the required level of user access. We wish there was a straightforward answer to this question, but in all honesty, it depends on your needs and the needs of your users.
But to help you with your decision, put simply: with SDLs, any user will have CC access, but only on those particular licensed computers.
Whereas with NULs, only licensed users will have CC access, but they can access on any device. Users can still use their license on lab/classroom computers, but they also get access from home on personal computers and mobile devices.
Of course, you don't have to pick one or the other. Depending on your needs, you can easily combine both options and license a selection of your most used lab/classroom computers and a selection of users who require more flexible access for important, long-term projects.
NULs: Putting the power of creativity in your hands
It's no coincidence that the recent increase in home learning has seen a big increase in the uptake of NULs. With NULs, you get everything that's included in SDLs, plus more. They remove that restriction of having to use particular computers, instead giving your users the freedom to access CC at their convenience.
With NULs, if your users need access on lab or classroom computers, they can. If your users need access when learning from home, they can. If your users need access in class one day and at home the next, they can! With access to world-leading Adobe apps just a tap away, you really are putting the power of creativity in your students' hands.
And there's no better time to act!
As announced in our webinar, with the minimum purchase for K12 NUL Packs recently being reduced from 500 to 300, there has never been a better time to act. Call our friendly team of experts today to find out more, and don't worry if you missed the webinar, head over to our YouTube channel where you can watch the webinar recording at any time along with many more videos!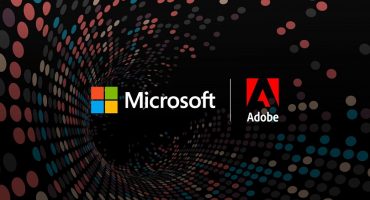 Last updated:24th May 2020
Adobe and Microsoft are two of the biggest names in technology. If you use any sort of computing device, the chances are that you use at least some of their tools, whether it's exploring your creativity with Adobe Photoshop or Illustrator, or getting productive with Microsoft Word, Excel or PowerPoint. And let's not forget Adobe Acrobat; how would we cope without this staple PDF tool?
Read more

»