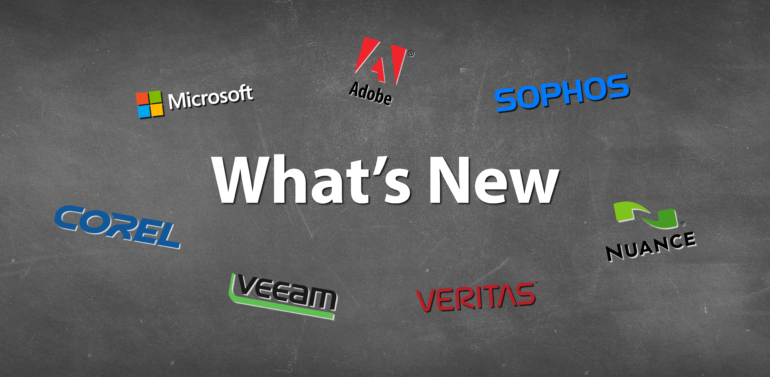 What's New – September 2019
Last updated: 3rd September 2019
September What's New brings a selection of new product releases from Steinberg Dorico 3, Red Hat Enterprise Linux 8 Operating System, Cyber Protection Solution with Acronis True Image 2020, Parallels Desktop 15 for Mac and more. Microsoft also have their monthly update with improvements to help you build a more productive, collaborative, and secure work environment for you and your organisation.

Section 1
Steinberg Dorico 3 – Dorico 3 drives the state of the art in music notation software forward. Only Dorico 3 can produce a condensed conductor's score in a single click. Dorico 3 also introduces powerful new features for guitar and harp, sophisticated new playback controls, and much more, wrapped up in a newly-refined and elegant user interface
Condensing: automatically produce a conductor's score with a single click (Dorico Pro only)
Tablature: tab for instruments with any number of strings, plus support for bends, slides, hammer-ons, pull-offs, etc., all dynamically linked to the notation
Guitar notation: comprehensive support for left- and right-hand fingering, string indicators, and more, all exquisitely automatically positioned
Playback templates: quickly and easily set up your own preferences for playback, combining sounds from any virtual instruments and sound libraries installed
Olympus Choir Micro: beautiful new mixed choir samples from Soundiron
Smart harp pedaling: automatic calculation of harp pedal changes, displayed as diagrams or note names, and automatic proof-reading for unplayable notes
Red Hat Enterprise Linux 8 – An intelligent operating system that creates a consistent foundation for enterprise hybrid cloud, bringing the latest innovations to any workload running in any environment.
Red Hat Insights that help IT teams proactively identify and remediate threats to security and performance
Application Streams with frequently updated programming languages, frameworks and developer tools
A Web Console with a new user interface to make system administration, management and monitoring easier for people new to Linux
System Roles featuring pre-configured Ansible modules to automate a variety of tasks
A Container Toolkit that can create, run and share containerised applications
In-place upgrades allowing for a streamlined upgrade process with install tools and a run command for the system to update itself
Microsoft August Update – This month, Microsoft are rolling out improvements to help you build a more productive, collaborative, and secure work environment for you and your organization. The new XLOOKUP formula for Excel helps you find data and improve calculation time. OneNote and Yammer mobile updates help you work on the go and find the answers you need more quickly. And the new FastTrack guidance will ensure seamless Windows 10 migrations.
1:11 Sketched Shapes in PowerPoint

1:54 Subscript, Superscript, and Casing

2:25 XLOOKUP in Excel

3:02 Shapes in OneNote for iPad

3:38 Meeting details in OneNote


4:07 Ink in OneNote for iPhone

4:49 Yammer mobile

5:31 FastTrack guidance

6:24 Data residency in South Korea

6:43 Multi-Geo in South Africa and UAE

7:03 Simplified Office activation

7:19 Intune support for FileVault

7:34 Microsoft Defender ATP
Acronis True Image 2020 – Effective cyber protection needs to evolve based on how we use and access data, and what the latest cyberthreats are. That's why Acronis True Image 2020 includes 100+ enhancements, including these great new features.
Dual Protection
Experts agree that the 3-2-1 backup strategy is the most effective approach to data protection. Now Acronis makes the process easy and efficient by replicating local backups in the cloud automatically so you always have an off-site copy available for recovery. Once you've successfully completed the first backup, the backup and replication occur simultaneously.
Tray Notification Center
Safeguarding data requires you stay informed about your system, your files, and your protection. With Acronis True Image 2020, you can get messages pushed to your desktop tray that allow you to easily monitor the status of your backups, receive timely tips on how to enhance your protection, and quickly respond to any issues.
Other New Features include Back Up on Selected Wi-Fi, Custom Power Management, Power Nap Backups and much more.
Parallels Desktop 15 for Mac – The fastest, easiest and most powerful application for running Windows on Mac® – without rebooting – is now even better than before.
Work Faster: Start Microsoft Office applications up to 80% faster
Next-Level Graphics: Up to 15% faster plus support of DirectX 11 over Apple Metal*
Be Productive: Drag and drop screenshot previews and email files right from Finder
Get Creative: Support for Apple Pencil® in Sidecar, IRISPen and more
Future-Proof: Ready for upcoming macOS Catalina and Windows releases
Netop Remote Control version 12.78 – Version 12.78 focused on improving the remote control experience when using the installed Guest application. This version introduces updates to the Guest interface and improvements to screen-fit and resolution during remote control sessions, and fixes for some reported issues.
Improved Screen-fit & Resolution: The default setting when starting a remote control session is now "Fit Host Screen to Window". This takes advantage of improvements in screen-fit and resolution when Guest and Host modules have different screen resolutions.
Tool-tips for the Toolbar: When in a full-screen, the remote control toolbar will now include tool-tips when the mouse hovers over a specific icon. These tool-tips provide a text description for each icon on the toolbar.
Simplified Guest Interface: When using a Netop Remote Control Portal only license a variety of options are not available to the Guest user. Icons, navigation options and interface elements that are not available for the Portal only user have been removed to simplify the interface and improve usability
Exclaimer Signature Manager Office 365 Edition to be discontinued – Due to a change to authentication requirements being implemented by Microsoft, Signature Manager Office 365 Edition will stop working in October 2020. As a result, Exclaimer have stopped selling the product and associated Support Maintenance Agreements. Exclaimer will continue to honour all agreements currently in place.
The change made by Microsoft means that from now until October 2020, the default method of authentication will change and may prevent the product interacting with some Office 365 users' profiles to add signatures. If you face any issues with the product in the meantime, please contact Exclaimer Support who will be able to help.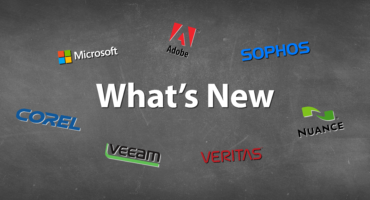 Last updated:26th July 2019
August What's New features some of the highlights from Microsoft Inspire 2019 including Artificial Intelligence built into Microsoft 365, Teams in the Classroom and revolutionary technology with holograms. There is also new painting software from Corel Painter 2020, an updates from Veritas NetBackup 8.2 and Carbonite Migrate now integrated with Azure Migrate.
Read more

»