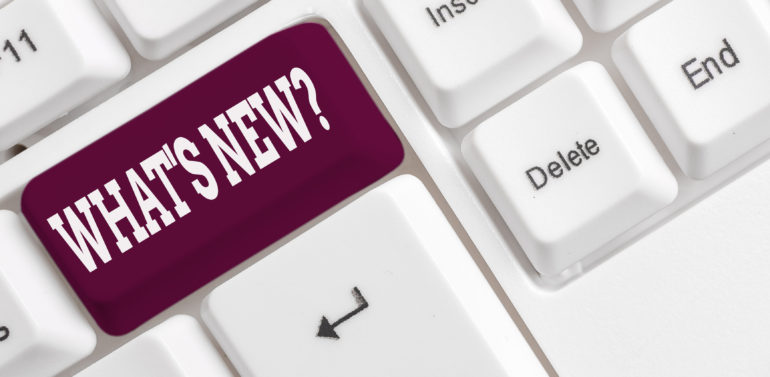 What's New – August 2021
Last updated: 25th August 2021
Check out What's New in August. As we return back to the classroom and offices, Poly announces a new Poly Voyager 4300 UC Series Headset, perfect to keep productive whether at home or in the office. Logitech have also released Zone True Wireless earbuds bringing a personal style to video meetings. SMART have re-named the popular SMART Learning Suite Online to Lumio by SMART. Pugh have a range of bespoke services around devices including pre delivery configuration and shipping with accessories in the box. Plus, TechSmith are running a 'Back to School' special limited time offer with 20% off volume maintenance. And much more…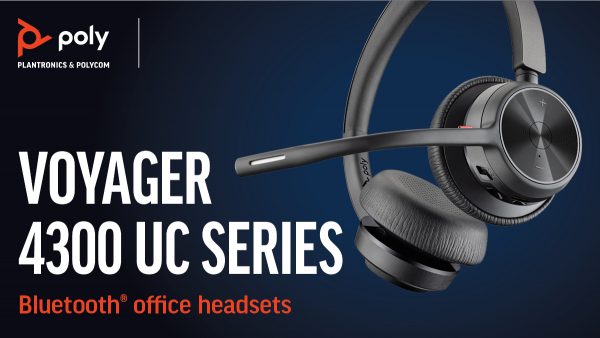 Poly Voyager 4300 Headset UC Series – Free your workers from their desks with the perfect entry-level Bluetooth® wireless headset. Meet the Voyager 4300 UC Series. It's everything they need to stay productive and connect to all their devices whether at home or in the office. Keep your teams productive with outstanding audio quality, all-day comfort and dual-mic Acoustic Fence technology that eliminates background noise. And it's an IT manager's dream with easy deployment and full remote management – all at an unbeatable price.
Up to 164 feet of Bluetooth wireless range
Up to 24-hours talk time
Available in mono or stereo wearing styles
Noise-canceling dual-microphone with Acoustic Fence technology Comfortable adjustable headband
Microsoft Teams-certified options with dedicated Teams button
Remote management with Poly Lens, cloud-based device management software
Designed for portability: use at home and in the office
For more information visit our Poly Microsite – Headsets
Lumio by SMART (formerly known as SMART Learning Suite Online) – The digital learning tool for today's changing teaching environments. Intuitive web-based software that helps you create engaging lessons students can interact with in class, remotely or on their own time all on their own devices. Transform lessons in seconds, then deliver them to student devices in a browser via Google or Microsoft Teams. You can even combine different file types into a single Lumio lesson!
It's easy, start with your lessons or access ready-made resources
Engage your students like never before
Capture insight into learning
Logitech Zone True Wireless – Bring your personal style to video meetings with Zone True Wireless Bluetooth earbuds. A certified noise-cancelling mic, ANC and immersive sound are ideal for busy workspaces. Simultaneously connect your computer and smartphone, then customise and control your earbuds with the Logi Tune app. With Zone True Wireless Bluetooth earbuds your voice sounds crystal clear, even in noisy environments. Three mics in each earbud (6 total) distinguish your voice from other sounds through a combination of advanced beamforming, cascaded noise reduction and dynamic processing.
All-day battery life
Simple, Qi wireless charging
Work to workout
Designed for sustainability
Bespoke Services for Devices by Pugh – One-stop for all your laptop needs – Choosing a laptop can be difficult. Finding it hard to meet your power, memory, screen size and durability needs while remaining within budget? Fear not, our team of experts guide you to ensure you invest in a laptop that is right for you. We pride ourselves on rapid delivery. We can pre-configure your laptops, ensure all software is fully vetted and virus-free, and still get them delivered to you the next day, either directly to end-users, local authorities, schools or home addresses.
To ensure that we meet your requirements, we can create bespoke bundles, including cameras, monitors and keyboards for home workers. We can even insert personalised messages and instructions for users as they open the box. Laptops come with a 12-month manufacturer's warranty that can be extended if needed. Worried about your old laptops? We can manage the take-back and refurbishment of these. We also offer flexible finance options.
Call us today to discuss your options.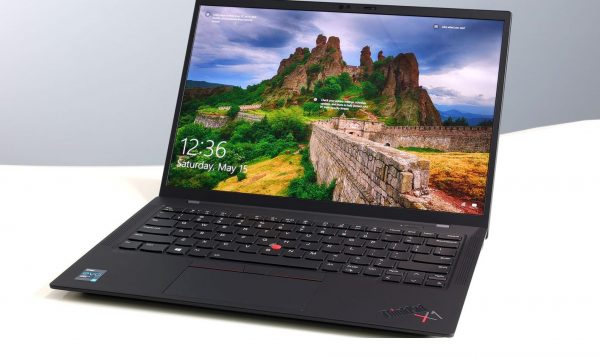 Lenovo ThinkPad X1 Carbon Gen 9 – Power & portability in a premium package. The 14″ ThinkPad X1 Carbon Gen 9 laptop rolls out a host of new features that add convenience, improve technology, and enrich your experience – all while retaining an ultrathin and ultralight chassis. You'll discover an impressive 16:10 display, a wider TouchPad, a larger battery for more time unplugged, and rear ventilation to improve efficiency. Plus, with the Intel® Evo® platform, you get a super-responsive device that's ready whenever you need it.
Responsiveness reimagined – With the Intel® Evo™ platform, the ThinkPad X1 Carbon Gen 9 laptop delivers a powerhouse combination of performance, responsiveness, battery life, and stunning visuals. With up to 11th Gen Intel® Core™ i7 vPro® processors, you can count on an exceptional experience, anywhere.
Cool under pressure – The new one-bar hinge, dual fan, and rear venting for an improved Intelligent Thermal Solution means you can put in long hours on the job, and the ThinkPad X1 Carbon Gen 9 laptop will stay as cool as you are.
Security integrated seamlessly – With an updated suite of built-in ThinkShield security solutions, the ThinkPad X1 Carbon Gen 9 laptop safeguards your device and your data. Biometrics provide an extra-secure fingerprint reader that's integrated with the power button—so you can log in and boot up instantaneously.
Future-proof – The ThinkPad X1 Carbon Gen 9 laptop offers a true smartphone-like experience in an always-connected PC. Speedy WiFi 6 lets you jump on crowded public platforms fast while avoiding lag-time and buffering. And with the optional 4G / 5G WWAN*, you can enjoy faster, more secure access to your network and uninterrupted video streaming.
Get back to school with Microsoft Teams – Microsoft Teams for Education brings everything and everyone together for learning and work in one place. Teams simplifies your day with conversations, classwork, learning tools, and analytics in one secure app, so it's easy to stay organized, connect with anyone, and learn and grow together.
Adobe Sign: Is it legal? Your questions answered – The benefits of Adobe Sign are clear: collecting signatures within minutes rather than days speeds up your workflows and makes you more efficient, document tracking and auditing gives you greater compliance visibility, and with no paper needed, it's simply a greener way of doing things. However, the most common question is still 'is it legal?'.
Adobe Sign is legally binding in most cases and in many countries. We say most cases due to a small number of highly sensitive documents still requiring a physical signature by law, such as wills and property transfers in England and Wales. But for most scenarios, including consent forms, employment contracts and purchase orders where a witness is not required, Adobe Sign's e-signatures are legally binding.
Check out our latest newsletter
TechSmith Special Offer – TechSmith are now running a "Back to School" promotional offer for all Education sector on volume maintenance. Get a 20% discount on all volume seat extensions (minimum 5 user purchase) until September 30th 2021. Available for any of the following TechSmith products – Camtasia, Snagit and Bundle. Get in touch today for more information.
Pugh migrates to Microsoft Dynamics 365 CRM – As we continue to develop our cloud-based Modern Workplace, we have now gone live with our brand-new, bespoke Microsoft Dynamics 365 CRM system. This innovative new system will not only help us develop greater and closer relationships with our loyal customers by giving our team deeper insights into customer needs, but it is also modernising the way we work by giving our team more flexible access, more efficient workflows and increased data visibility for closer teamwork.
We now start to look ahead towards future plans for migrating to a modern, cloud-based ERP system, with integration between both systems allowing for seamless, high-quality customer service workflows. These cloud-based systems also play a key role in our mission to be as eco-friendly as possible. You can discover more about our sustainability commitments by checking out our Sustainability and Environmental Policy.