ScreenBeam
ScreenBeam Inc., a leading wireless display and collaboration provider, delivers an app-free screen sharing experience on any modern device to bring intuitive wireless collaboration into any meeting space or classroom.
ScreenBeam is Microsoft's co-engineering partner for wireless display enabling wireless Office 365 experiences. 
ScreenBeam Classroom Commander for Windows 10 Classrooms
Redefines classroom orchestration, delivering all the functionality you expect from a premium orchestration solution while providing teacher and student mobility to present from anywhere in the classroom.
ScreenBeam 1100
Providing real-time collaboration with no apps or wires to connect, ScreenBeam 1100 provides a simply, user-friendly solution for today's enterprise environments.
Reverse Engineering the Modern Classroom
When building your untethered classroom, start with the end in mind and begin with a proven wireless display solution first!
Products
Education
ScreenBeam 1000 EDU
–
Designed for schools requiring a high performing 4K wireless display and collaboration solution. Combining local Wi-Fi mode connectivity with industry standard Miracast™, and network infrastructure connectivity or network bridge functionality, delivers unparalleled deployment options for teacher and student wireless presentations

.
ScreenBeam Classroom Commander
–
Delivers classroom orchestration and wireless display for up to 50 Windows 10 student devices, without taxing your network or setting up servers. Schools are free to create and be agile in one-to-one environments - while still giving teachers just the right amount of control to instruct, give students access to share, and orchestrate lessons and content with ease.
Commercial
ScreenBeam 1100
–
ScreenBeam 1100 delivers universal device support via enterprise-grade Miracast, AirPlay and Google Cast to eliminate connectivity issues in corporate environments. Native screen sharing means never using an app, dongle or button again. Users get the ultimate secure wireless collaboration experience, including wireless Microsoft Office 365, touch display support, extended display, 4K video streaming, and digital signage.
ScreenBeam 960
–
Without apps, cables or adapters, ScreenBeam 960 delivers native screen mirroring on Windows, Apple and Android devices so users enjoy the same trouble-free, easyto-connect experience in any room. Extended desktop maintains device use for other actions while presenting, and support for interactive touch displays and wireless touch brings collaboration to the front-of-room display.
Central Managment System
ScreenBeam CMS
–
ScreenBeam CMS lets users easily manage ScreenBeam receivers distributed throughout multiple conference rooms, classrooms, buildings, and locations with remote access of receivers located within the network. From a central location, users monitor receiver status, apply security policies, troubleshoot problems, perform a reset, update receivers, and more.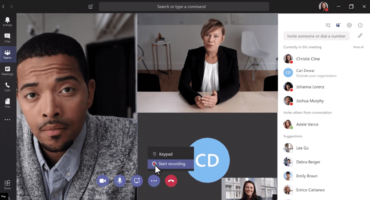 Last updated:12th March 2020
Given the current circumstances regarding the Coronavirus outbreak, businesses, educational institutions and third sector organisations around the UK are urgently assessing their ability to allow staff and students to work from home if needed.
Read more

»