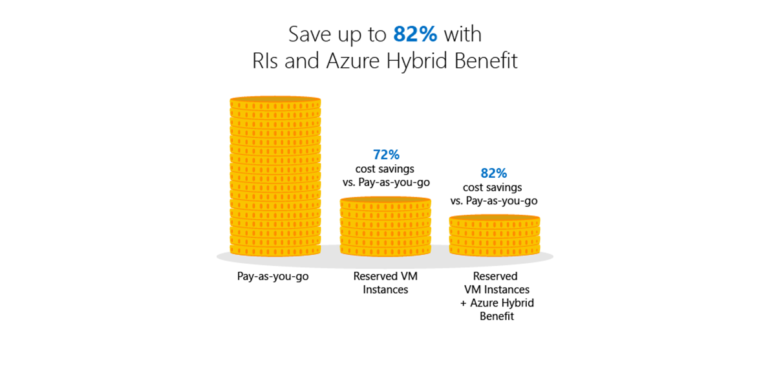 Save up to 82% with Azure Reserved Instances
Last updated: 12th March 2018
Microsoft's new Azure Virtual Machine Reserved Instances gives you the ability to make huge savings through the RI alternative payment plan.
The new Reserved Instances can provide you with up to 72% cost savings versus pay-as-you-go prices when you purchase your VMs upfront on a one or three-year term. Azure RI gives you the price predictability, helps improve budgeting and forecasting whilst providing flexibility should your business needs change.
Combining Reserved Instances with Hybrid Use Benefits can give you greater savings, up to 82% compared to pay-as-you-go prices. VM subscriptions with Azure are made up of two cost components, the VM resources and the software licencing.
As educational customers you can take advantage of academic pricing by utilising on-premise software in Azure. Since Windows Server 2016, Hybrid Use Benefit (HUB) is a Software Assurance benefit that allows you to run your Windows in Azure:
Windows Server Standard allows either on-premise OR Azure
Windows Server DataCenter allows for on-premise AND Azure entitlement
Similar savings can be made using Software Assurance benefits for SQL Server.
Running your services in Azure is a cost-effective way to provide your IT, however by careful planning of your usage you can make further savings. Contact Pugh for details.