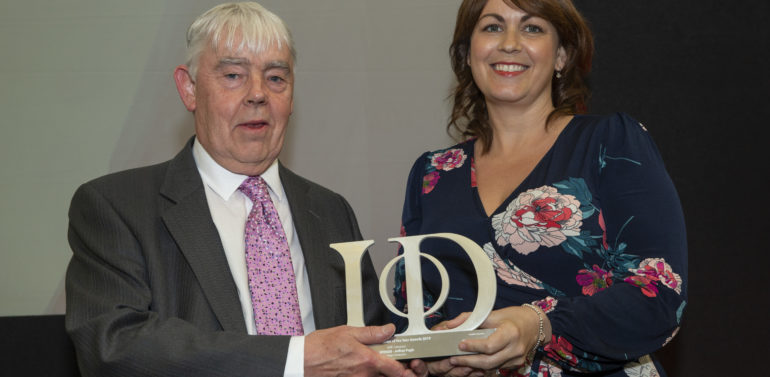 Pugh Computers Managing Director Scoops Director of the Year Award
Last updated: 24th May 2019
Pugh Computers are "thrilled" with the success of their Managing Director Jeffrey Pugh, who has won a business award, recognising him as a Director that shows "outstanding initiative, boldness and sound management practices".
Wales' top business talent was celebrated earlier this month at the The Institute of Directors (IOD) Wales Director of the Year Awards, where Jeffrey scooped the coveted "SME Director of the Year", beating stiff competition from other Directors across Wales.
He joined hundreds of peers and fellow directors for the prestigious awards ceremony at Cardiff's Sophia Gardens which was held as a celebratory lunch on Friday (17th May). Both Dr Liam Fox, Secretary of State for International Trade and president of the Board of Trade, and Secretary of State for Wales Alun Cairns attended and recognised the success of inspiring and pioneering business leaders in Wales in their speeches.
Jeffrey said "I am very pleased to have won this award on a personal level however I am most excited that this achievement puts Pugh Computers on the map as a leading Welsh employer that supports and invests in all its employees.
"I set up the business with the vision to provide great career opportunities in rural West Wales, recruiting locally and developing individuals' skills through mentoring and training aligned to professional qualifications, while making waves in the software licensing sector. I feel this award punctuates the great strides we have made in these areas.
"To add to our recent success our Business Development Manager Jamie Owen, has gained his Diploma in Marketing with The Chartered Institute of Marketing (CIM). This marks further development in his professional career following gaining a degree in Sports Management in Loughborough University.
"Our Marketing Manager Chris Jones has also achieved his Certificate in Marketing with CIM. Both Jamie and Chris went to the local primary and secondary schools, so this is an example of how we are committed to upskilling and developing local talent in the Sales, Marketing and Technology fields."
The IOD Wales awards, now in their ninth year, have become an established highlight on the Welsh business calendar and celebrate business achievements and inspirational leaders across Wales while bringing all sectors of the business community together, irrespective of size, geography and longevity.
IoD Wales director Robert Lloyd Griffiths said: "The Institute of Directors Wales Awards recognise the very best talent and achievements of directors, and we are confident that great directors mean great businesses, which ultimately means a better economy."
Jeffrey set up Pugh Computers 38 years ago and has developed it to become one of the UK's leading suppliers of software to the education and voluntary sectors. The team of 20 Welsh speaking employees collectively describe Pugh as an "inspirational leader" explains colleague Eifion Evans:
"Jeffrey makes it his mission to support and invest in the professional development of all employees within the organisation and to have his leadership recognised with this award is something we are all celebrating. Jeffrey is proud to fly the flag for Wales by speaking Welsh across all departments.
"As a leading technology company in Wales, our Welsh customer's value communicating with us in Welsh and the business has a real family feel as a result of the culture Jeffrey has embedded."
Also local, Technical Director Eifion has recently been shortlisted for Technology Leader of the Year at the Wales Technology Awards. The ceremony will be held next month – yet another exciting date for the Pugh team calendar!