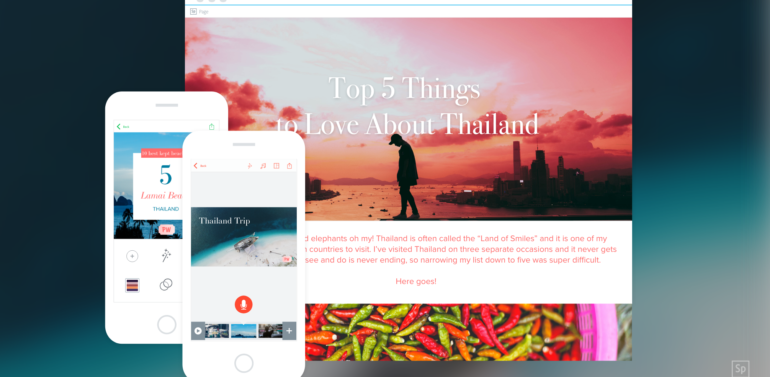 Branded Stories Are Here! Meet Adobe Spark with Premium Features
Last updated: 22nd February 2018
Branded stories are here! Adobe Spark with premium features allows you to inject more creativity into your visual stories than ever before. Make your Posts, Pages, and Videos look and feel like your brand by simply adding your brand ingredients and customizing branded assets until you land on a visual style that is uniquely you.
Spark lets you create your own content and share your stories with the world. Showcase stories that represents what inspires you, what moves you, what you care about and what your goals are. Spark with premium features offers more options so you can quickly and easily show people who you are – whether you are just starting to craft your online identity, already growing your following on social media, or creating marketing content for a non-profit or small business.
Check out how it works:

Just Three Steps to Brand Magic
It really is that easy. With baked in design intelligence, all you need to do is add your brand ingredients to get started.
Upload a logo.
If you don't have one, Spark will auto-generate a simple one for you.
Choose your brand colours.
Spark automatically detects the colours from your logo, but you can customise your look by cycling through the suggested combinations or inputting the hex codes.
Pick your fonts
Typography can be complicated, but Spark makes it easy by categorising fonts by style. Browse from classic, natural, loud, clean, and modern fonts to find something that you like. There is also created font pairs in each of these categories to set your content up for success
With just those three simple choices, Spark makes your brand come to life by auto-generating a variety of content that showcases your unique ideas and messages. So what next? Spark Provides:
Branded Templates
20 custom-made (and customisable) branded Spark Post templates in a variety of use-cases, from business cards to social media covers to flyers to digital ads. You also have the ability to "Brandify" any existing Spark Post or Inspiration Wall template with your brand specifications. It's as simple as one tap.
Branded Themes
Six matching themes in Spark Page and Spark Video. With refreshed Spark themes for the modern digital storyteller. You can customise these themes further to stay on brand, whether you're communicating with a web page or a video
Branded Surfaces
A variety of Spark surfaces where you can apply your logo and personalised calls to action. These include Page header and footer, Post and Video stamps, and a Video outro, all generated from your brand ingredients. Your unique calling card follows your content, no matter how far and wide it is shared.
With a mission to empower anyone – from students to non-profits to digital marketers and businesses – to transform their ideas into powerful visual stories. Adobe Spark is about storytelling and helping everyone communicate their ideas visually. Turn your graphics, web pages and videos into unique stories by injecting your own identity, look and feel, and personality.
The Spark you already know and love will remain free to use, but to create your own branded stories you will require a membership. So why not take full advantage of all Spark's premium features in the Creative Cloud plans.