Quark
Quark Software was founded in Denver, Colorado in 1981 with the mission to reinvent how content creators and creative professionals bring their visions to life. Quark offers end-to-end content automation platform that enables the creation, management, publishing and delivery of content across print, Web and digital channels. Whether creating regulatory documentation, policies and procedures, investment research reports or interactive marketing communications, the world's most recognised brands are modernising their content strategies and processes with Quark solutions.
What's new in QuarkXPress 2018
Experience the most powerful application for design professionals Combining the features you asked for with the quality your daily work demands, QuarkXPress 2018 is truly the best version ever!
Products
QuarkXPress – graphic design and page layout software
Quark Publishing Platform – end-to-end solution for enterprise organisations
Quark Author – web-based content creation software
Quark XML Author – next generation of XML authoring tools
Quark Brand Manager – a unified content and brand platform
App Studio – create apps with responsive interactive content
DesignPad – design on your iPad wherever you are
Licensing
QuarkXPress® for Education
Quark's Education Programme delivers something for everyone across the education spectrum. Whether a teacher, student, school, college or university, you have access to the best tools the professionals use — at a fraction of the cost. Save over 90% off the commercial list price through volume licensing.
Secondary Schools
With Quark's school licenses, you can use QuarkXPress® in your classroom or across your school. Licenses start with a minimum of 2 seats. The license is perpetual, is not cloud or internet based and is installed directly to the end users computer. This license comes with 60 days of free technical assistance through the self-service support portal. Additional technical support plans (6 and 12 months) are available for purchase. One serial number and one license make managing your classroom or school license easy.
Higher Education
Departmental License or entire Institution License available
Charities & Not for Profit Organisations
Single User or Volume licensing that starts at 2 seats available for eligible organisations.
Teachers and Staff
Single User License available
App Studio Education Plan
Quark also offer an App Studio Education Plan that includes 250 QuarkXPress licenses along with everything you need to prepare students for the world of digital publishing, equipping them to create next generation iPad, iPhone and Android apps.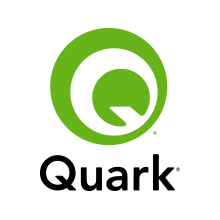 Pugh Catalogue

Winter December 2017
30th November 2017

Autumn 2016 Catalogue
1st October 2016