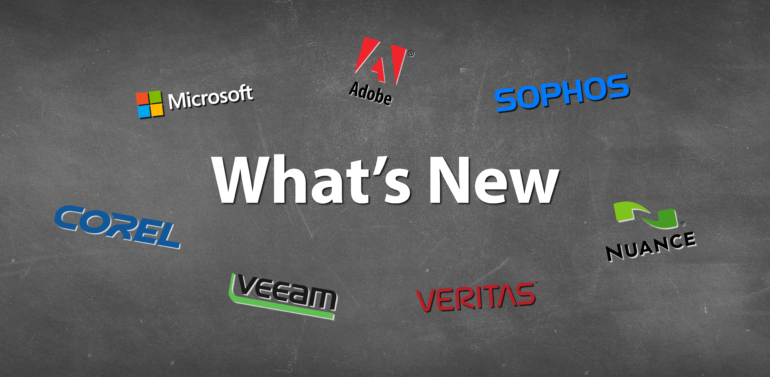 What's New – October 2019
Last updated: 9th October 2019
Don't miss out on October's What's New which includes major release from Corel with PaintShop Pro 2020, MindManager 2020 and Pinnacle Studio 23, and much more other new products. Microsoft are also covering new updates and features designed to help you collaborate effectively, work more efficiently, and protect your data with Microsoft 365. As well as a NEW range of Surfaces with Surface Pro X, 7, Laptop 3 and coming soon is the Surface Neo and Duo.


Corel PaintShop Pro 2020 – Developed by like-minded users and trusted by professional photographers PaintShopPro® 2020 delivers a powerful, all-in-one photo editing and graphic design experience so users can spend more time doing what they love. PaintShop® Pro 2020 is an affordable, user-centric alternative to Photoshop—with every feature inspired by user ideas.
NEW SmartClone – The all-new, content-aware SmartClone feature allows you to easily merge elements from multiple images and seamlessly integrate them into one.
NEW Photography Workspace – Touch-ready, highly simplified workspace that allows you to focus exclusively on quick photo edits for wow-factor results.
NEW Refine Brush – A Refine Brush has been added to your Selection toolset to enable you to select an object with extreme precision and accuracy, down to a single strand of hair.
Mindjet MindManager 2020 – MindManager makes it easier to think, plan, and communicate. Information is invaluable. But it's also overwhelming. MindManager puts you in command of the information surrounding your work, business and world – instead of controlled, confused or overwhelmed by it.
Create beautiful interactive maps, charts & diagrams
Process & organize information more effectively
Bring structure and clarity to plans & projects
See the big picture and little details in one view
NEW in 2020: Co-Editing | Capture Tools | Mobile Viewers | Excel Integrations | Project Management Enhancements & MORE
Corel Pinnacle Studio 23 – Unleash the power, precision, and control of Pinnacle Studio Ultimate and edit your next production like a pro! This fully-loaded, advanced editing suite makes it easy to edit across unlimited tracks with unparalleled accuracy and control. Explore hundreds of creative effects, advanced Video Masking tools, Color Grading, screen recording, and so much more.
Loaded with pro-caliber tools including enhanced Color Grading controls and new Video Masks
Unlimited creative possibilities with 2,000+ filters and effects
Enhanced keyframing controls for precise editing
New workflow efficiencies to streamline your editing process
Microsoft Monthly Update – From Microsoft To Do to PowerPoint for the web, Microsoft are covering new updates and features designed to help you collaborate effectively, work more efficiently, and protect your data with Microsoft 365.
0:52 Dark Mode – Outlook mobile and office.com http://msft.social/Vx3ZBV
2:25 Dark Mode – OneNote for Mac
2:31 Microsoft To Do http://msft.social/SrOckp
5:01 Link to slides
5:31 Presenter Coach
6:04 Yammer mobile http://msft.social/BIZMiq
6:46 Intune support for corporate Android devices https://aka.ms/IntuneWorkDevice
8:47 User templates http://msft.social/Bky2dD
9:45 Automated Incident Response http://msft.social/Y0UNDl
10:25 Evaluation lab http://msft.social/FefBMN
10:58 Outlook on the web http://msft.social/7PVNAA
11:27 Multilingual support
11:59 Sticky Notes
12:22 Recent Notes
What's New in Microsoft EDU – With school in full swing, teachers are busy assessing their students' social, emotional and academic needs, setting goals, building collaborative learning environments and using the knowledge and skills they've acquired to transform classrooms. With all that in front of them, technology in the classroom has to work hard for educators and improve teaching and learning.
In this month's edition of What's New in EDU, Microsoft are excited to unveil new tools and resources that will empower teachers to deliver great instruction, personalize learning, foster inclusion and accessibility, and free up time to focus on what matters most.
Microsoft Surface Pro X – You're always one step ahead. So is the new Surface Pro X. Sleek design and ultimate mobility combine with razor-thin bezels that take your ideas to the edge of the brilliant 13" touchscreen. Work more efficiently anywhere with blazing-fast LTE. For a premium laptop experience on the go, click the Surface Pro X Signature Keyboard in place. The Slim Pen stores securely and recharges in the keyboard, so it's always at your fingertips. Stand out and stay connected with Surface Pro X.
Microsoft Surface Pro 7 – At the office, at home or en route, new Surface Pro 7 adapts to the way you work with laptop-to-tablet versatility. And now, it delivers more power than ever, with a laptop-class Intel® Core™ processor, all-day battery, and improved graphics — plus more multitasking connections, including both USB-C™ and USB-A ports. More power from the Pro you know. Surface Pro 7.
Microsoft Laptop 3 – Make a more powerful statement with new Surface Laptop 3. Sleek and light, it travels with ease and delivers improved speed and performance, all-day battery life, and outstanding graphics. Now in two sizes and two elegant keyboard finishes. Fuel your ideas with Surface Laptop 3.
Microsoft Surface Neo – Coming Holiday 2020. A groundbreaking new dual-screen device that redefines how you get things done. With two 9" screens, a revolutionary 360° hinge, touch, pen, keyboard, and incredible new Windows experiences, Surface Neo enables you to do more, anywhere.
Microsoft Surface Duo – Coming Holiday 2020. The perfect balance of productivity and mobility. Surface Duo is a new dual-screen device that fits in your pocket. With two screens connected by a revolutionary 360° hinge, Surface Duo brings together the best of Microsoft and Android to reimagine productivity on the go.
Rising Software Musition 6 – Fun ways to learn music theory & musicianship. Music theory software, suitable for students of all ages and levels. Become an expert at reading sheet music, recognizing time signatures, notating rhythms, understanding intervals, matching keys signatures and more.
Rising Software Auralia 6 – Ear training with real music. With 54 topics and endless customisation Auralia is the most comprehensive ear training software available. All the fundamentals are converted; pitch, rhythm, intervals, chords, scales and tuning. Progress through cadences, dictation, harmony, jazz progressions and melodic transcription.
Content – Fundamentals and Advanced Students
AP* Music Theory
Syllabus & Topics
Integration
Assessment, Testing & Grading

Retrospect Backup 16.5 – With granular remote management functionality through the Retrospect Management Console and macOS Catalina support. The release also marks the 30th anniversary of Retrospect Backup, which has been protecting millions of homes and business around the world with easy-to-use software since 1989.
Granular Remote Management: Customers are now able manage individual Retrospect engines, including new views for sources, sets, scripts, and activities as well as the ability to create or update scripts and create new destinations.
Improved NAS Support: NAS volumes are now immediately visible in Retrospect, even if mounted through operating system, enabling customers to quickly use their Drobo or other NAS device.
macOS Catalina: Retrospect is certified for macOS Catalina, the latest edition of macOS.
Sophos Mobile and iOS version 13 – Apple will soon release version 13 of iOS and iPadOS. Due to changes in the operating system, you must upgrade your Sophos Mobile server. It is important that you upgrade to the latest version of Sophos Mobile before upgrading devices to iOS 13. You can download the latest patch for Sophos Mobile 9.0 and 8.6 from the Sophos License Portal now. Customers using Sophos Mobile in Sophos Central or Sophos Mobile as a Service are not affected and do not need to take any action