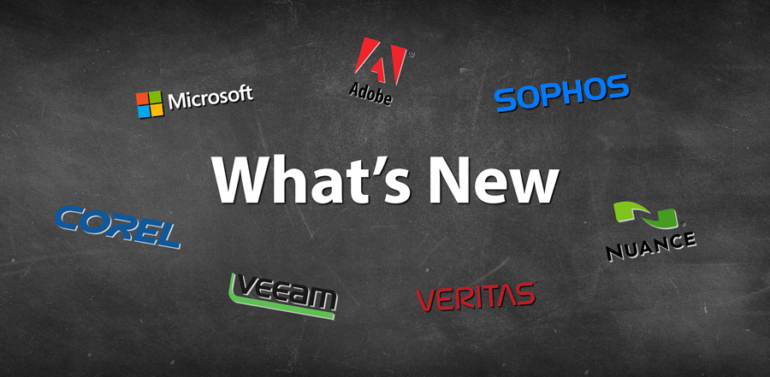 What's New – November 2019
Last updated: 12th November 2019
November What's New features Cubase latest major release with Steinberg Cubase 10.5. There is big news from Adobe MAX with new exciting products including Adobe Fresco, Aero and Photoshop for iPad. Microsoft have announced the new Microsoft 365 Business Voice at Microsoft Ignite 2019, with other related news included in the monthly update. 
Steinberg Cubase 10.5 – Cubase 10.5 follows up the highly anticipated landmark release with many significant improvements, additional inspiring tools and major workflow refinements. Whether you are looking for creative inspiration or new ways to speed up your professional workflow, the new features in Cubase 10.5 specifically cater to your needs.
Spectral Comparison EQ
Video Export Render
MultiTap Delay
Padshop 2
Colorized Mixer Channels
Adobe Fresco – Built for the latest stylus and touch devices, Adobe Fresco brings together the world's largest collection of vector and raster brushes, plus revolutionary new Live Brushes, to deliver a completely natural painting and drawing experience. For artists, illustrators, animators, sketchers and anyone who wants to discover – or rediscover – the joy of drawing and painting.
Largest collection of the world's most natural brushes
Professional-quality tools that are simple enough for all skill levels
Work how you want, wherever inspiration strikes
Adobe Aero – Introducing Adobe Aero, the most intuitive way to view, build, and share immersive and interactive AR experiences. Design and share augmented reality experiences using assets you've created in Adobe Photoshop, Illustrator and more. With Adobe Aero, you can blur the lines between the physical and digital worlds — no complex coding required.
Get up and running quickly
Work seamlessly with your favorite creative apps
Publish and share with ease
Adobe Photoshop on iPad – Photoshop now goes wherever you do, with features reimagined just for iPad. Craft composites with your finger and retouch images with your Apple Pencil. Layers? They're all here. Resolution? No difference. Your PSDs are exactly the same, whether you're working on your desktop or a mountain top. This first release focuses on compositing features and workflows. And there's much more to come.
Microsoft 365 Business Voice – Introducing Microsoft 365 Business Voice, a cloud-based phone system designed for businesses up to 300 users that provides you with the ability to make and receive calls from any phone number. It integrates with Office 365, and together they deliver an all-in-one communication and collaboration solution. Business Voice is available as an add-on to Microsoft 365 and Office 365 plans in Canada and the UK.
Calling, chat, and meetings in a single app
Call from anywhere, on any device
Delivered from Microsoft's trusted cloud
Simplified setup, billing, and management
Microsoft Monthly Update – From the new Office Mobile App to Teams enhancements, now Microsoft have announced new Microsoft 365 innovations at the Microsoft Ignite conference in Orlando, Florida.
0:33 Microsoft Teams
1:14 Microsoft Edge
2:01 Office Mobile App
5:27 Office Scripting
5:52 Power Platform in Teams
9:08 Compliance Score
9:27 Insider Risk Management
9:58 Microsoft Endpoint Manager
10:24 Global Reader
10:40 Onboarding Hub
11:05 Office 365 Groups
11:46 Microsoft Search
12:05 Workplace Analytics
What's New in Microsoft EDU – In this month's What's New In EDU, Microsoft point you to free, high-quality STEM resources. Thoughtfully designed and well implemented STEM instruction builds subject-specific knowledge and fosters a growth mindset, collaboration, critical thinking and computational thinking – all vital skills for jobs of the future.