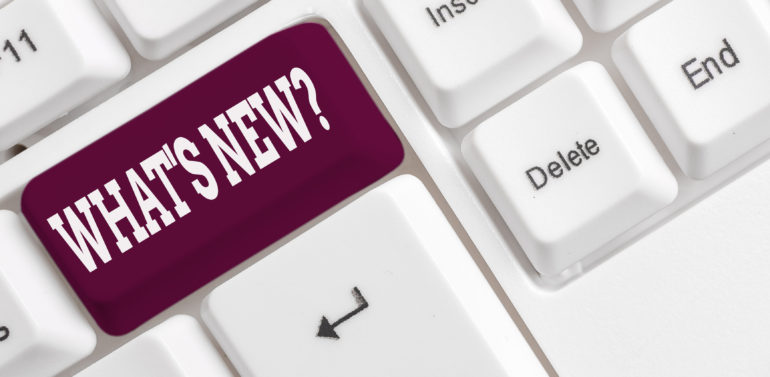 What's New – May 2020
Last updated: 26th May 2020
Author: Jamie Owen, Pugh Computers Ltd, Business Development Manager
Don't miss out on May's What's New which includes a major release from Steinberg with Dorico 3.5, a limited time offer for the Jabra PanaCast, our newly launched My Pugh cloud portal, a new Campus Site License for TechSmith and new cost-effective additions to the Corel Graphic Suite family. We also bring you two groundbreaking new products to add to the Microsoft Surface portfolio as well as a monthly update to what's new in Microsoft 365.
Steinberg Dorico 3.5 – Dorico helps you to write music notation, automatically producing printed results of exceptional quality – and plays it back with breathtaking realism. It is easy enough for anyone to learn, yet has hundreds of advanced notations, features, options and sounds to satisfy even the most demanding professionals.
NEW VST Expression Maps – powerful new tools for handling sample libraries through its expanded VST Expression Maps editor, with conditional switches.
NEW Figured bass – most comprehensive and intelligent figured bass feature of any music notation software. Using a dedicated popover, quickly add figures to any bass part, and choose how they should appear with a complete set of engraving options.
NEW Pitch before duration input – play freely on your MIDI keyboard without inputting any notes, and only commit to a particular note or chord once you specify its duration.
NEW Guitar notation – new features for composers and arrangers writing for guitar: support for tapping, hammer-on and pull-off, and a variety of techniques for the vibrato arm, or whammy bar, make it easy to notate even elaborate solos for electric guitar.
NEW Condensing for divisi – the ability to automatically create a condensed conductor's score with a single click, is further extended in Dorico Pro 3.5 with support for condensed divisi for string section players.
**LIMITED TIME ONLY**
Get 15% Off Jabra PanaCast | The social distancing video camera – With a full 180° view of the room, three 13-megapixel cameras and patented real-time video stitching technology, Jabra PanaCast gives you wall-to-wall coverage of the room in crisp high definition. So, everyone can be included in the frame while keeping a safe distance. Jabra PanaCast is the social distancing tool you never knew you needed.
Unique, real-time video stitching for a natural 180° view
Intelligent Zoom technology automatically adjusts camera resolution
Vivid HDR for a great video experience, even under widely varying lighting conditions
Easy to deploy, plug-and-play video technology with minimal setup required
Certified for Microsoft Teams and compatible with Zoom, Cisco Webex and many more
NEW 'My Pugh' Cloud Portal – We have recently launched 'My Pugh' a new cloud portal which will empower our customers and make it easier to self-serve cloud services. Customers will be able to obtain pricing, buy new services and access detailed cloud usage analytics via a dashboard which shows cost and consumption analytics.
Purchase Cloud Services
Manage Cloud Subscriptions
Analyse Use
Set Budgets
Regulary Change Subscription Levels
Add Multiple Vendor Solutions
TechSmith Campus Site License – TechSmith now offer Snagit and Camtasia Campus Site License based on total number of FTE faculty and staff, full and part time. A Site License is the best way to get the benefits of visual communication. Provide access to Snagit and/or Camtasia to everyone at your education establishment for a reasonable price that is custom fit to you.
Available for entire Campus or individual departments
Minimum number of 250 FTE
Includes Camtasia and Snagit as well as maintenance benefits such as free upgrades and support
Includes all school owned computers
Allows home use for faculty and staff
Microsoft Surface Go 2 – Connect, keep up, and tackle every task with Surface Go 2, the perfectly portable PC with a new, bigger 10.5" touchscreen, plus 1080p HD cameras for staying in touch. Learn, write, sketch, and play all day with 2-in-1 tablet-to-laptop versatility, long battery life, and Windows security for the whole family. And, stay connected wherever you are with built-in Wi-Fi and optional LTE.
Microsoft Book 3 – Meet the most powerful Surface laptop yet, with 13.5" or 15" touchscreen and 1080p HD cameras for video calls. Surface Book 3 combines speed, graphics, and immersive gaming with the versatility of a laptop, tablet, and portable studio. Perfect for your needs and goals today, with the powerhouse performance to fuel what's next.
ScreenBeam NEW Ghost Inking – ScreenBeam has revolutionized the wireless digital inking and annotation user experience through its latest technology solution called Ghost Inking. ScreenBeam Ghost Inking drastically improves the Windows inking experience on a wireless connected interactive display using a Windows PC. Today, Windows 10 and Microsoft Office 365 platform users can ink and annotate in Office 365 applications such as Windows Edge, PowerPoint, OneNote, SketchPad and more, but the experience limits users to ink directly on a touch-enabled PC or requires a wired connection between the Windows PC and the interactive display to minimize the delay in ink output.
Making Latency Disappear – With ScreenBeam's Ghost Inking technology, users have a more intuitive and natural 'Pen-to-Paper' like experience that fosters better collaboration overall. As soon as the user begins to ink on the display, patent-pending Ghost Inking technology backfills the user's finger or pen ahead of the actual permanent digital ink marking.
Unified Productivity – By extending Windows Ink native in Windows 10 and Microsoft Office 365 ecosystems onto ScreenBeam connected interactive displays, companies eliminate the challenge of training employees on proprietary inking tools built into displays.
CorelDRAW Graphic Suite Update – With the introduction of CorelDRAW Standard 2020, plus the full power of the recently released CorelDRAW Graphics Suite 2020, Corel now offers a full range of creative graphics software solutions to meet the unique requirements of creative consumers, home businesses, and graphics professionals.
CorelDRAW® Standard 2020 – Dream it then design it with CorelDRAW® Standard 2020, a seamless solution for students to develop graphic design skills for a visual world. Create and complete all kinds of school assignments – from presentations and layouts, to infographics and photo projects – with intuitive tools for illustration, layout, and photo editing.
For art, design, and CAD – related courses that demand a complete, professional – level graphic design solution, students and teachers will prefer the full power of CorelDRAW® Graphics Suite 2020. It's the ultimate in vector illustration and page layout, typography, photo editing, and font management, available on virtually any platform, for any academic setting. Education Pricing Available.

Corel WordPerfect Office 2020 – celebrates the latest version of the office suite supporting your productivity needs – from crafting documents and presentations, to impressive spreadsheet creation and more! Especially popular with the Legal, Government and Education sectors, Corel have enhanced features such as Reveal Codes to eBook Publishing, built-in PDF functionality and other new enhancements on top of the foundation users know and love. Collaboration is key and simple to leverage with support for more than 60 file types, including the latest Microsoft Office formats.
All in one office suite: Create professional documents, presentations, spreadsheets, and more. It's the intuitive, easy-to-use solution for home and business users alike.
View document formatting with Reveal Codes: See exactly how and where formatting appears in any WordPerfect document with Reveal Codes. New support for font attributes and text alignment features in table cells, rows, and columns.
Built-in PDF functionality: Create, edit, and share PDF files right from the desktop. With the flexibility of PDF publishing share documents, charts, and presentations.
Microsoft Office compatibility: Open, edit, and save documents in a variety of popular file formats. Enjoy compatibility for Microsoft Word, Excel, and PowerPoint files, in addition to more than 60 file types for unrivalled support and sharing.
Intuitive eBook publishing: Explore the many ways to create and publish an eBook. It also includes compatibility with popular eBook devices, such as Kobo, Nook, and Sony Reader.
What's New with Microsoft 365 – This month on What's New with Microsoft 365, we cover tips and resources to help small businesses transition to remote work including how to roll out Microsoft Teams, remote work training resources to stay connected with clients and partners, and the new Microsoft 365 Business Voice plan.
0:47 – Roll out Microsoft Teams
2:52 – Turn on guest access
3:56 – Remote work resources
4:16 – Employee video training
4:38 – Small-business scenario video training
5:04 – Microsoft 365 Business Voice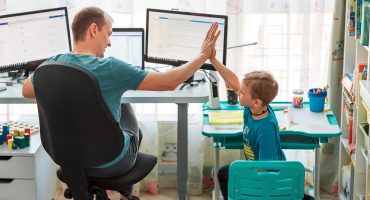 Last updated:1st May 2020
By now, most of us are settled into some sort of work from home routine. At the beginning, it's a case of getting things done, even if results aren't quite up to your usual standards. It's about compromising, and this is generally acceptable given the difficult circumstances. Then as time goes on, you start to want more...
Read more

»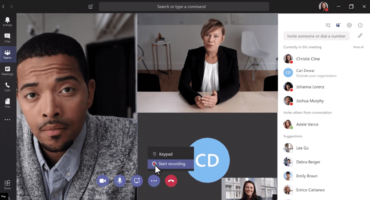 Last updated:12th March 2020
Given the current circumstances regarding the Coronavirus outbreak, businesses, educational institutions and third sector organisations around the UK are urgently assessing their ability to allow staff and students to work from home if needed.
Read more

»